What You Need to Know About Fitness Equipment Reviews
The Internet is an incredible resource for researching products.  In particular, you can find countless reviews from both professionals and customers.  For individuals in the market for fitness equipment, the Internet can assist you in the complicated procedure of selecting the right equipment for your body and budget.  Because buying fitness equipment like treadmills, elliptical trainers or exercise bikes can be overwhelming.
There are countless models, and prices vary from a couple of hundred dollars to several thousand dollars.  So it is advantageous if you can find some online assistance and direction in selecting a product that can accommodate your fitness goals and physique within your price range.
So it would seem a no brainer to turn to one of the numerous fitness equipment reviews sites.  There are countless sites that review products like treadmills, elliptical trainer and exercise bikes.
However, there is a problem with the vast majority of these review sites.  Most of these sites are authored by people who have no background or experience in the industry.
They've built these sites and have gone to great length to get them ranked in the search engines for one reason – Money!
Affiliate Marketing and Fitness Equipment Review Sites
Affiliate marketing is a multi-billion dollar business.   This is how it works. Web sites refer traffic to merchant sites and if that referral results in a sale the originating site, the affiliate site, gets a commission.  The sales are tracked through cookies that identify where the traffic originated.
In fact, you may have been to an affiliate site, clicked on a link to a merchant site left and came back several days later and the affiliate site still got the commission.  Some affiliate programs will credit an affiliate site up to 60 days from the original visit.   Practically all sites that review products are affiliate sites, in addition to most coupon and product and services comparison sites.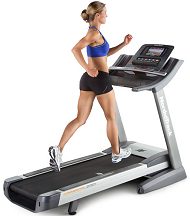 Most people who surf the Internet are unaware of this industry.  And in fact, many of the products you purchase online may have been initiated by going to an affiliate site.
There are affiliate programs for just about any product or service that is sold on the Internet, including clothing, automotive, health products, financial services, auctions, electronic, books, food products, housewares, telecommunication services, travel services and of course fitness equipment.
Affiliate marketing is not necessarily a bad thing, and in fact many affiliate sites offer a valuable service to their viewers.   They provide insight and information into products and services and help you to sift through the details and the numerous options in order to make an informed purchasing decision.
However,  there is also the dark side of affiliate marketing, where sites offer up a bunch of bogus information that is more construed to making a profit than assisting their viewers.
What makes affiliate marketing so attractive is that there is a low threshold to enter the business.  You just need to be able to create a web site, add some content and manipulate the search engines, like Google, into ranking your web pages.   It is an entrepreneur's dream come true.
The Appeal of Fitness Equipment Affiliate Marketing
What draws so many people to fitness equipment affiliate marketing is the high price points and generous commissions.
For example, there are several fitness equipment merchants whose average online sale is $1,000, and their commissions to their affiliate could be as high as 12%.  It doesn't take many commissions to make a very comfortable living.  And of course, you can conduct your business from anywhere in the world.
It is the easy entry into the business and the potential money that draws the uninitiated into the business of reviewing fitness equipment.  In fact, the majority of the fitness equipment reviews are done by individual with no experience in the fitness equipment industry.
Worse yet, many have never been on the products they review.  Their reviews are just a rehash of what is on the merchant site.  And not surprisingly their recommendations are based on which products are most likely to result in a commission.
I've come across fitness equipment review sites that were written from individuals in either Eastern Europe or India.  They can barely write in English, and I know for a fact that none of the products they review are available in those countries.
I've come across treadmill review sites where the author's claim to credibility is that they were runners.   Another was a stay at home mother who works out at a health club and that made her an authority on treadmills.  The fact is there are only a handful of fitness equipment review site that are written by individuals with industry experience.
If you are in the market for fitness equipment you want to rely on authoritative sites.  How do you tell an authoritative site?  First, check out the "About Us" page, if there isn't one that is a red flag.  If they do have an "About Us" page, but they have no industry experience, move on.
Buying fitness equipment can be complicated and expensive.  That is why you need the help of a professional, either online or off to assist you getting the right product for your fitness goals.
I have a confession to make, I am an affiliate marketer who reviews fitness equipment.  However, I have worked in the industry for over 17 years and work hard on offering my readers the best advice in purchasing fitness equipment.