Making Disability Friendly Accommodations at Home Without Breaking the Bank
by Nan Gibbons
When making a home accessible for a person with disabilities, there are many factors to consider, including the need to stay within budget while also installing high-quality equipment. Perhaps you are making adjustments following recovery from an accident or you need to make more permanent changes for an older relative who now uses a chair. Whether you're shopping for an assistance item like a shower chair or resizing a door for ease of movement, here are some tips for making home navigation as easy as possible on you and your wallet.
 Doors
A standard size door is generally anywhere from 28-32″ wide. A wheelchair and the room it takes to move through the doorway will amount to 36″ of space. Replacing standard door hinges with those made to accommodate wheelchairs and walkers is cost-effective (generally starting around $12/hinge) and can add up to two inches of extra room to a doorway. As a bonus, working with a contractor might help you get a professionals-only discount on the materials you need to purchase. Consider installing a threshold ramp, which can help those with mobility issues cross a door-frame that would otherwise impede motion. Switching out standard doorknobs with levers can be a big help to those with manual dexterity concerns.
Ramps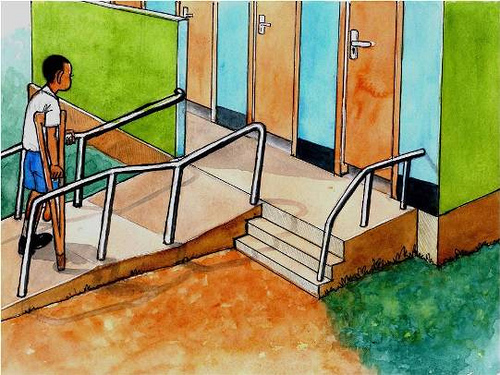 In addition to interior ramps, you will also need to make sure your home is accessible from the outside. Installing a ramp can be a do-it-yourself effort, which can help you cut down on its expense (anywhere from $100 to several hundred dollars), or a job that you might prefer handled by a contractor. Whichever option you choose, keep in mind that you or the professional you hire might need to secure a building permit before constructing the ramp. Adherence to regulations set forth by your local building department will also be necessary.
Shower chair
A portable chair or secured bench can assist the differently-abled with their bathing needs, along with the installation of a handheld shower sprayer. Strategic placement of grab bars, which begin around $50, can also provide necessary security and allow disabled persons to remain as independent as possible. Options abound for style choices, enabling you to seamlessly blend adaptations into your current décor. Shower chairs can be rented or purchased, depending on the time period they will be in use.
Flooring
Thick carpeting, not surprisingly, can hamper ease of movement for disabled persons. Removing the carpet entirely does not mean losing the stylish appeal of your home. Consider replacing carpet with relatively inexpensive options like carpet tiles or laminate flooring, both of which can start at less than $1/square foot. They also come in a range of designs to complement the home and provide ease of motion for wheelchairs and walkers alike.
Though changing your surroundings to accommodate for wheelchair or other aid use will take some effort, you don't have to break the bank when making modifications. Even small changes can make things that many of us take for granted just a bit easier for differently-abled persons in their daily lives.
(Nan Gibbons is a fitness expert and marketer who loves traveling the world to advise at sporting events. When she's stateside, she enjoys spending time volunteering at environmental organizations and spending time with her lab mix, Cody.)