Five Tips for Saving Money on Vision Care Products
by Leanne Tremblay
Vision care products are some of the most costly recurring medical expenses. While a good set of frames can easily run you several hundred dollars, the cost of contact lenses can be $50/month or more. That really starts to add up. Any time you can save even a little on these products is a good thing.
Planning ahead of time will save you a lot of money. Here are a few tips for saving money on vision care that will help you budget in the future:
1) Valid Prescription From Eye Doctor
Start with a valid eye doctor's prescription. This may not sound like a money saver, but to benefit from online deals on contact lenses in particular, you must have a valid prescription from an eye care professional. In the U.S., the Fairness to Contact Lens Consumers Act requires that sellers verify your prescription before filling any order for contact lenses.
In other words you must provide a valid prescription, or your doctor's contact information, so that your prescription can be verified. Your doctor is also required by law to provide it to you in writing. Note that your eyeglasses prescription can't be used for contact lenses and vice versa. In most states, contact lens prescriptions are valid for one year.
2) Use Online Coupons
Take advantage of monthly coupons from reputable online retailers of eyewear, such as Coastal.com, ACLens.com, VisionDirect.com, and 1800Contacts. Typically, online coupons will save you 15% to 20% on your purchase, including free shipping. For example, here is a link to contact lens coupons from 1800Contacts. Similarly, you will find deals from other websites as well if you join their facebook fan page or follow their twitter accounts.
It pays to shop around online as prices between sites can vary widely.
Besides the cost per box, you should factor in shipping and handling charges and volume discounts. Deal sites like FatWallet.com and Lensshopper.com let you compare monthly deals between retailers easily.
The months to look for the hottest deals are August (for the back-to-school crowd), October (for Halloween), and December to January.
3) Take Advantage of Manufacturer Rebates
For contact lenses, you can use manufacturer's rebates to save even more. When you buy a year's supply of contact lenses at once, manufacturers like CIBAVision and Acuvue give you a big volume discount. For example, eight boxes of Acuvue Oasys with the volume discount at Coastal.com costs around $190. With the Acuvue $30 rebate, a year's supply is reduced to $160.
The downside of using rebates is you have to pay for the lenses up front, and then complete a form and send in proof of purchase to get the money back as a check in the mail.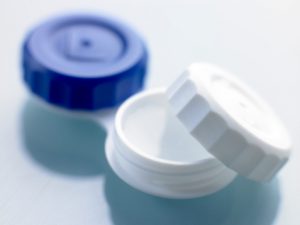 Here's a guideline for purchasing a year's supply of contact lenses:
• Daily lenses (30 pack) = 24 boxes
• Daily lenses (90 pack) = 8 boxes
• 2 week disposables = 8 boxes
• Monthly disposables = 4 boxes
4) Find Designer Look-Alike Frames
For eyeglasses, choose designer look-alike frames that cost a fraction of designer ones. Or, if you have found a name brand frame at a regular eyewear store, look for discounted designer frames from online retailers like Eyeglasses123.com.
Save even more by purchasing more than one pair of frames at once, including prescription sunglasses, and even reading glasses.
5) Use FSA or HSA
Use tax free medical savings accounts such as FSAs (Flexible Spending Accounts) and HSAs (Health Savings Accounts) to purchase eyeglasses, contacts and eye care accessories if you live in the United States.
An FSA, or Flexible Spending Account, is a tax free account for medical expenses, dependent care, and so on. The money deducted from your pay check goes into an FSA and is not subject to tax, which means you will save when filing your income taxes in the US. FSA funds don't carry over into the next year, so the "use it or lose it" rule applies. In December and January every year, people rush to use either leftover FSA money or replenished FSA funds. However, FSA purchases can be made year round, so don't wait.
A Health Savings Account (HSA) is another type of tax free medical savings account. Unlike an FSA, however, HSA funds roll over into the next year, and so the money accumulates. Your contributions to an HSA remain in your account from year to year until you use them.
FSAs are usually set up through an employer whereas HSAs are portable and move with you should you switch jobs. To use both FSA and HSA funds for medical expenses, including over-the-counter drugs, you must have a doctor's prescription.
The good news is prescription eyeglasses and contact lenses are FSA and HSA eligible. Even colored contacts are eligible as long as they are vision-correcting and you have a valid prescription from your eye doctor.
Eligible vision care expenses include:
• prescription contact lenses, including prescription colored lenses. Note that in order for colored lenses to be eligible for FSA or HSA dollars, they must be vision correcting (not Plano, 0.00, or zero power)
• eye exams
• saline solution
• enzyme cleaner
• lens storage cases
• prescription eyeglasses and sunglasses
• eye surgery
Vision plays an important role in our daily lives. Whether you plan to get a driver's license or just be able to see properly, you may not have a choice to put off buying prescription glasses or contact lenses. However, if you are not careful, you may end up spending a lot of money on vision care. That's why it is important to plan ahead of time so that you can save money in the long run.
(Leanne Tremblay writes about colored contacts over at ColorMeContacts.com, a web site with coupons for saving money on contact lenses, colored contact trends and fun ideas for accessorizing your eyes. She believes that contact lenses do not have to be boring and she writes about various stylish options such as opaque contacts for dark eyes or crazy Halloween lenses.)