Use Aloe Vera to Improve Your Health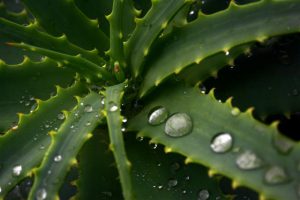 You've probably seen aloe plants in supermarkets, nurseries, or your great aunt's front porch. They're pretty do you know how healthy they are for? Hidden beneath those spines is a life-promoting medicine that can help cure nearly every ailment at a fraction of the cost of conventional medicine with no side effects!
What is Aloe?
Aloe is a species of succulent plant that most likely originated inAfrica. Because of its unique shape and spines, it is often mistaken for a cactus plant. However, aloe plants require more water than cactus plants but like a cactus, aloe vera plants are very hardy and difficult to kill. So even if you don't have a green thumb, you can still easily raise an aloe plant.
The health benefits of aloe vera lie within its fleshy leaves. The gel of an aloe plant contains natural anti-inflammatory properties that can heal sunburn, strengthen fingernails, and more. If you have an aloe plant at home, you can cut off a leaf anytime, split it open with a knife or your fingernail and use it directly on your skin.
But the health benefits don't stop there. This miraculous plant can also be turned into aloe vera juice; a highly nutritious anti-bacterial juice that heals you from the inside out. If you've ever accidentally gotten some aloe in your mouth while using it on a cut, burn or scrape, you might think you couldn't stomach the taste of it. The truth is, the taste of the aloe vera juice you drink will depend on the brand. For example, George's Aloe Vera Juice tastes like spring water while RealFood Organics has a kind of white wine flavor.
Aloe Vera – Head to Toe Uses
1.     Hair
Aloe vera is very beneficial to your hair. Whether you're suffering from premature hair loss, dandruff or dry hair, aloe vera can help.
Conditioner – Aloe vera locks in moisture and unlike traditional conditioners, it contains no harmful chemicals, dyes or perfumes. To make your own home-made aloe vera conditioner, you'll need one lemon, aloe vera juice, and your favorite essential oils or oils. Squeeze the juice from half a lemon into a bowl and mix ¼ of a teaspoon of aloe vera juice and 3-5 drops of essential oil. Wash your hair with organic shampoo and rinse thoroughly. Apply the aloe vera conditioner, concentrating on the scalp and ends. Leave on for 5 minutes, then rinse off.
Dandruff Treatment – Got flakes? You can use aloe vera in place of dandruff shampoo to moisturize your scalp and get rid of embarrassing dandruff. To treat dandruff with aloe vera, you'll need 100% aloe vera gel and tea tree oil. Mix a teaspoon of aloe vera juice with no more than 5 drops of tea tree oil. Get in the shower and wet your hair until saturated. Using a firm but steady pressure, rub the mixture into your scalp and leave on for 10 minutes. Your scalp should tingle but if it burns, rinse your head off immediately. Never get any of it in your eyes as tea tree can sting.
Hair Loss – If you're experiencing premature hair loss, you may be embarrassed to go out without a hat or some other hair covering. That's understandable. Hair loss has many causes including poor nutrition, food allergies, and genes. Aloe vera gel can help treat hair loss with a specific enzyme that promotes hair growth. Use aloe vera juice, gel or oil directly on the bald or thinning spots to encourage new growth.
2.     Skin
Psoriasis and Eczema – Psoriasis and eczema are inflammatory skin conditions that plague millions of people. If you're on of them, you can use aloe vera gel to treat it. Simply cut a leaf or two from your houseplant and rub the gel directly on those patches of flaky skin. Use several times per day until the rash starts to disappear. For added benefits, drink aloe vera juice to fight inflammation from the inside out.
Acne – In addition to its natural anti-inflammatory properties, aloe vera acts as a natural anti-bacterial and can be used to treat acne pimples. Use the gel from a cut leaf on each blemish twice a day. Your skin should clear up within one week. For stubborn blemishes, try mixing the aloe vera gel with a drop or two of tea tree oil.
Sunburn – Nothing works better or faster on sunburn that aloe vera gel. Unlike apple cider vinegar or rubbing alcohol, aloe vera soothes inflamed, burned skin without stinging.
3.     Teeth
Strengthen Gums – If your dentist has ever told you your teeth look great but your gums have to go (ha ha), try using aloe vera gel to strengthen your gums and relieve inflammation. You can mix your own toothpaste by combining baking soda, peroxide, aloe vera gel, coconut oil, and clove oil. This mixture will not only help prevent gingivitis and treat a receding gum-line, it will also make your teeth sparkly white!
4.     Fingernails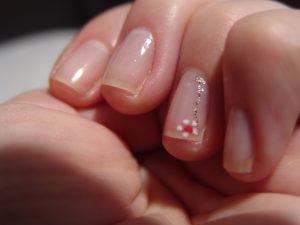 Nail Strengthener – If you've got weak, brittle nails, it could be a sign of nutritional deficiencies, dehydration or autoimmune disease. Using aloe vera gel on your fingernails can help strengthen them naturally. Just mix 2 tablespoons of aloe vera gel and 2 drops of witch hazel and rub the mixture into your nails with your fingers. Doing this regularly will help remove excess oil while keeping your fingernails moisturized, clean, and healthy.
5.     Lungs
Fights Asthma and Allergies – If you suffer from asthma or allergic breathing problems, you can use aloe vera juice to help open up your airways naturally. Just drinking cold pressed 100% pure aloe vera juice daily can help ease lung inflammation and fight recurrent bacterial infections that often accompany chronic allergies.
6.     Stomach
If you have any kind of digestive problems, you need aloe vera juice. It's one of the best natural remedies for any kind of stomach problem not matter what.
Ulcers – Ulcers are painful and can sometimes lead to stomach cancer. The lining of your stomach contains epithelial cells that are very similar to the cells on your skin and aloe vera gel works wonders on cuts and burns. This is why drinking aloe vera juice can work as an excellent natural ulcer treatment. Its soothing anti-inflammatory properties help heal irritated tissues and close ulcerations while its anti-bacterial properties can fight H. Pylori and other intestinal infections.
Acid Reflux – Can't drink a glass of water without getting an attack of acid reflux? You're not alone. To soothe and irritated esophagus, take aloe vera latex pills or drink aloe vera juice twice per day. You can also control acid reflux with activated charcoal, DGL licorice, and probiotics.
Celiac Disease – Celiac disease is an autoimmune condition whereby the body is unable to effectively digest the protein found in wheat, barley, rye, and some oats. Even after you've completely cut gluten from your diet, your intestines will still need time to heal. Drinking aloe vera juice regularly can soothe irritated intestines and speed your recovery time.
Crohn's Disease – Crohn's disease is another common inflammatory bowel condition that can benefit from the use of aloe vera juice.
7.     Bladder
Urinary Tract Infection – Some people never get urinary tract infections while others can never seem to get rid of them. Aloe vera juice is loaded with nutrients and amino acids as well as natural anti-viral mucopolysaccharides that can help stop aUTI in its tracks. For best results, mix aloe vera juice with pure cranberry juice and drink morning and night for 5-7 days.
8.     Vagina
Yeast Infections – While you may not be able to use aloe vera to cure a yeast infection, you can use it to soothe inflamed skin. To cure and soothe, peel a clove of organic garlic from a bulb and remove the paper film. Using aloe vera gel to lubricate a clean finger, place the clove into the vagina and leave overnight. You may also want to drink aloe vera juice regularly to fight inflammation and keep yeast infections at bay.
9.     Derriere
Hemorrhoid Treatment – Aloe vera's natural anti-inflammatory properties soothes irritated and inflamed tissues caused by hemorrhoids. To treat them easily, simply cut open an aloe vera plant and squeeze out the gel into a cotton pad. Next, gently apply to the irritated tissues and leave on overnight. You can also increase the effectiveness of the aloe vera gel by putting a drop of lavender, frankincense, or cypress essential oil on the cotton pad before using.
10.    Toenails
Fungus Fighter – To treat toenail fungus, use aloe vera gel mixed with tea tree oil twice per day on clean, dry feet. Aloe vera contains natural fungal-fighting ingredients that can help keep your feet fungus free without the need for over-the-counter medications.
No matter how far advanced medical science becomes, some of the best medicines are still found in nature. Aloe plants are easy to care for and brighten up any home. Pick up a couple of them today for cuts, scrapes, and sunburn and invest in a bottle or two of aloe vera juice to detoxify your insides and keep you feeling healthy and energized all day long!