Lazy Breakfast Ideas for Students and Busy Professionals
Jaime A. Heidel
Mar 12, 2011
Ah, breakfast. A time for the family to gather around at the kitchen table over fresh-squeezed orange juice, fluffy eggs and a platter of home-made pancakes thick with maple syrup. Yeah, right. Maybe in the 1950's. Twenty-first century demands have the modern family on the go, go, go! Parents, students and busy professionals need all the easy meals they can get. A fast-paced life can be tiring. Check out these ten breakfast ideas for the lazy person in all of us.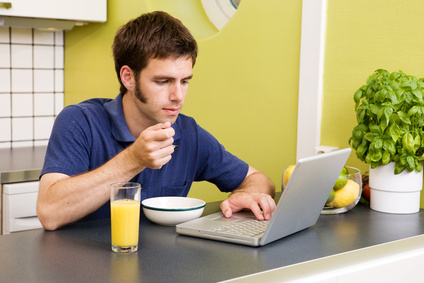 1 – Breakfast Shake
One of the best lazy breakfast ideas for busy professionals is the breakfast shake. Nothing says easy like blending and drinking all of the nutrients and calories you need for the morning in less than ten minutes. All you need is 6-8 ounces of milk (or dairy-free equivalent such as almond or rice milk), a scoop of ice cream, a tablespoon of almond or peanut butter and a handful of fresh or frozen fruit such as bananas or blueberries. For a little more protein, add one raw egg. Be sure to choose organic eggs when consuming them raw. Blend for approximately 30 seconds and down the hatch. That was easy!
2 – Bananas
Bananas are the perfect breakfast for the teenager who needs to be dragged out of bed each morning. Filled with essential potassium, fiber, tryptophan (a natural mood stabilizer) and iron, this portable fruit is a great go-to choice for the health-conscious parent and lazy student. Make it fun: Dip the banana in nut butter and granola for a tasty treat!
3 – Cold Cereal
Cold cereal can be nutritious if you know the best kinds to buy. Since most commercial cereals are filled with unhealthy additives like MSG, BHT, BHA and food dyes, health-conscious families will want to choose healthier alternatives. When choosing a cold breakfast cereal, organic is best. Organic cereals do not contain dangerous preservatives or additives and are often sweetened with only cane sugar or fruit juice. Annie's Homegrown, Nature's Path and Kashi brands are examples of popular organic cereals.
For those on special diets such as gluten, corn or sugar free, Arrowhead Mills offers puffed rice cereal that can be flavored with bananas, dried fruit, nuts and maple syrup for a nutritious, budget-friendly start to the day!
4 – Hot Cereal
A bowl of hot cereal is another nutritious way for the lazy person to start their day. As with cold cereals, some commercial hot cereals contain unnecessary additives and preservatives best avoided by those on a healthy diet. Again, organic is best.
There's more to hot cereal that just instant oatmeal. These five hot cereal choices can offer the nutrition and variety your family craves:
Quinoa – Pronounced (keen wah), this gluten free hot cereal offers a rich, nutty flavor and is packed with phytonutrients, antioxidants, protein, magnesium and fiber. It cooks quickly and tastes great topped with maple syrup, honey, sugar or fresh fruit.
Rolled Oats – Unlike instant oatmeal, which is often high in sugar and preservatives, rolled oats is an easy, natural way to get a high-fiber, low calorie breakfast. Blend with honey, fruit preserves, or maple syrup for a well-rounded lazy man's breakfast!
Rice – Plain rice cereal is perfect for the busy professional with digestive complaints such as gluten intolerance, ulcers or acid reflux. This budget-friendly hot breakfast cooks fast and tastes great topped with fresh fruit, sugar, honey or cinnamon. Rice cereal is also a great first solid food for baby!
Amaranth – Another great gluten free hot breakfast cereal for the busy student struggling to balance nutrition with study is amaranth. Chock-full of vitamins A, B6, K and C and minerals calcium, potassium, iron, magnesium, copper and phosphorus, this healthy grain replaces instant oatmeal with ease. Use vanilla-flavored almond milk instead of water for a rich, flavorful treat!
Note of Caution: Those with inflammatory conditions such as gout, rheumatoid arthritis or kidney disorders should consume amaranth in moderation because of its high oxalic acid content.
Grits – A staple of the South, grits is great lazy man's morning meal. Rich in iron, thiamine, folic acid and niacin, this quick-cook country food tastes great plain or seasoned with butter, salt and spices.
5 – Breakfast Bars
Breakfast for the busy professional doesn't get any easier than a nutrient-packed protein bar. However, not all protein bars are the same. Some contain preservatives, additives and unnecessary sweeteners that do nothing to benefit health. Opt for raw, whole-food bars such as Raw Revolution and Larabars instead. Both contain easily-to-digest nuts, dates, dried fruit, chocolate (certain varieties) and essential nutrients the body can use for fuel when on the go.
6 – Yogurt
Yogurt is a great way to start a healthy day. It is filled with probiotics and fiber that encourages healthy digestion throughout the day and keeps immune health strong. Avoid unhealthy sweeteners like high fructose corn syrup and aspartame by choosing organic varieties such as Stonyfield Farm and Wallaby Organic. Top with granola, nuts, fruit and flax seed for variety and added nutrition!
7 – Muffins
Muffins are the perfect healthy breakfast for the busy professional. However, most store-bought muffins contain additives, preservatives and sweeteners that make them more like fast food than health food. Skip all that by picking up an organic muffin mix, some milled flax seed for fiber, frozen or fresh fruit and nuts and preparing them at home the night before you start your work or school week. That way, all you have to do is grab, toast, butter and go!
8 – Eggs
Eggs are versatile, loaded with nutrition and very easy to make. Prepare a batch of hard-boiled eggs to have on hand for a couple of days, crack them over a buttered skillet or scramble them with your favorite seasonings for a quick, easy breakfast any day of the week. Rich in natural vitamin D, protein, all nine essential amino acids, choline and B12, eggs are a great addition to any healthy diet.
Student or busy professional on the go? Pair those scrambled eggs with some Canadian bacon and cheese and squeeze in between an English muffin for an easy breakfast sandwich. It may not be the healthiest choice in the world, but it still beats fast food!
9 – Toast & Almond Butter
Toast is easy to make and very versatile. Choose from whole grain, rye, pumpernickel or raisin-filled. Instead of pairing it with butter before running out the door, try smoothing on some creamy, nutritious almond butter for a protein boost that will help you get through even a busy morning with ease. Add some fruit preserves or honey for a filling, budget-friendly sandwich.
10 – Breakfast Platter
Who says breakfast has to be breakfast food? If you're looking for a fun way to be lazy at the breakfast table, try a breakfast platter. Slice up some sharp cheese, grab a handful of almonds, crackers and fruit such as grapes or raisins and voila, you have a healthy, protein-packed breakfast to see you through any busy day!
A good breakfast is a great way to start any busy day off right. Even if you have no time for a sit-down meal, you can avoid fast-food and skipped meals by choosing one of these ten breakfast ideas for the lazy person in all of us. There's nothing wrong with being lazy once in the while, you just have to do it right!
(Jaime is a professional ghostwriter and freelance writer with a passion for holistic and natural healing. Her website, www.itoldyouiwassick.info aims to validate those suffering from mystery symptoms, get to the root cause of disease and illness and help people heal naturally.)