How to Get Professional Certification Online in Nutrition or Health-Related Programs
by Maria Rainier 
If you are interested in health or have a health blog, you may wonder whether you should get a degree in nutrition or health-related field to enhance your knowledge. Whether you want to increase your knowledge or start a new exciting career in health profession, an online degree may be the best option if you are a busy professional and cannot dedicate full time to school.
Diet, nutrition, and healthcare industries are booming. In fact, according to the Bureau of Labor Statistics, the fields are predicted to increase 9% and a whopping 22% within the next decade, respectively. If you've ever wanted to become a professional nutritionist, dietician, food scientist, cereal chemist, agronomist, a nurse, or anything else related to these fields, now is the perfect time.
But if you are hesitant to enroll and get the proper education because you feel as though you don't have the time to pursue a degree, another type of schooling may be able to give you the flexibility you're seeking—distance education. To learn more of how online education works and to see if it seems like a right fit for you, continue reading below.
Are Online Programs Easier/Faster to Earn?
Online courses are designed to give you the same information as when enrolled in a traditional program just in a different medium: via webcam, chat rooms and recorded videos. It also provides flexibility so you can tune into lectures and complete assignments when you have time— whether that's late at night after your children are asleep or after work for example.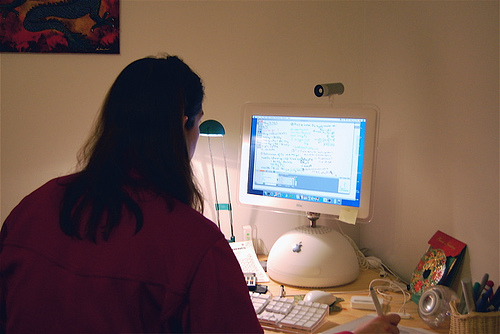 But by no means is it any easier. It still takes time, dedication, and effort to make the grades. It also involves a lot of independent work and if this is not your style of learning you may be in trouble. That said, while "some" accelerated programs do exist, it should take full-time online students the same time it takes to earn traditional degrees: associate—2 years; bachelor's—4 years; and master's—6 years.
Will it Be Strictly Online?
Probably not—or at least it shouldn't. Traditional nutrition and health programs require students to conduct labs and receive an "x" amount of clinical hours to get hands-on experience with food, patients and clients. An online program should have no exception and will most likely include an in-person component. More details about how/where to fulfill these hours should be given to you when enrolling in your school-of-choice.
What Kinds of Programs are Offered?
Specific titles of programs will vary from school-to-school, but to give you a better idea of some of the programs available online, look at the list below:
• Emergency Management
• Healthcare Administration
• Healthcare Management
• Nursing (LPN, RN, BSN)
• Food and Nutrition Science
• Forensic Medicine
• Pharmacy
• Physician Assistant
• Physical Therapy
• Public Health
• Radiologic Science
• Respiratory Therapy
• Sonography
• Occupational Safety and Health
How to Find a Quality Program?
While there are in fact some sites that are able to direct you to online degree programs in your field like the Online Education Data Base, it's important that you remember most brick-and-mortar colleges offer online programs now too. Either case, when narrowing your choices to find the best school/program for you, it's important that you do lots and lots of research.
• Check Accreditation: Firstly you need to make sure the online school you're considering is accredited (regionally or nationally); otherwise you're just wasting your time. Most diplomas earned from an unaccredited school hold no real value and will make it nearly impossible to find employment. That said, you can check for accreditation directly on the school's site and then cross reference to make sure the accrediting agency is legitimate by using resources like The Council for Higher Education Accreditation.
Or you can check for your school-of-choice's accrediting agency on the U.S. Department of Education website or College Navigator.
Do note that these resources do not include all schools. If your school-of-choice did not make the cut and you're still suspicious about a program's validity, contact your state attorney general's office—they may be able to help you.
• Check Professors' Credentials: You also want to research the faculty and staff. Look at all of the professors' specialties and expertise. Were they involved in any special research? Written books on the subject? How long have they been teaching? Just because you're steering away from a traditional program doesn't mean that you don't deserve superb instructors. Most of this information should be on the school's directory page.
• Check Affordability: Lastly but equally as important as all the other factors you want to investigate financial aid possibilities and total cost. Can you afford this particular program?
If you are looking for a fast track program to be a certified health coach, there are some affordable online programs to launch your career in nutrition and wellness. These are good alternatives to traditional degrees. For instance, Integrative Nutrition provides online nutrition courses which are licensed by the New York State Education Department.
Several universities offer a master's degree in this field if you already have a bachelor's degree. For example, if you already have a bachelor's degree in nursing, you can take online courses to get a master's degree in nursing. This option is especially useful if you do not have time to be a full time student.
While there may be factors in your life hindering you from pursuing a traditional school, an online education in a health-related field can possibly be the way you fulfill your dreams and reach your goals. With careful consideration and research, you should be able to find a program that is perfect for you.
(Maria Rainier is a freelance writer and blog junkie. She is currently a resident blogger at First in Education where she writes about education, online colleges, and online degrees. In her spare time, she enjoys square-foot gardening, swimming, and avoiding her laptop.)