Five Best Foods to Ensure Your Kids Age Optimally
by Dr. Kenneth Varano
While there may not be a magical youth potion that can make us younger, there is a lot that women and men can do to age gracefully. Now more than ever, women and men are doing anything and everything possible to look younger and live longer. That's where preventive medicine comes in.
I work with patients to help them overcome age-related hormonal imbalances, most often associated with menopause and andropause (the male menopause). At my practice, many of the age-related symptoms that I treat are the result of poor lifestyle choices. And this seems to be a common trend across the board for middle-aged women and men.
Fortunately, many baby-boomers have realized that it isn't too late to make a difference and are trading in their bad habits for good ones. But the anti-aging bandwagon isn't just for adults.
Every action has a reaction. If you treat your body well, it will thank you. If you neglect your health and well-being, you can almost guarantee that you will pay for it later on in life. The quantity and quality of our years is determined cumulatively. Starting at an early age, everything that we do helps shape the rest of our lives. Inherently, we are creatures of habit. We learn by example and the more we become accustomed to routine, the more difficult it is to change, be it for better or worse.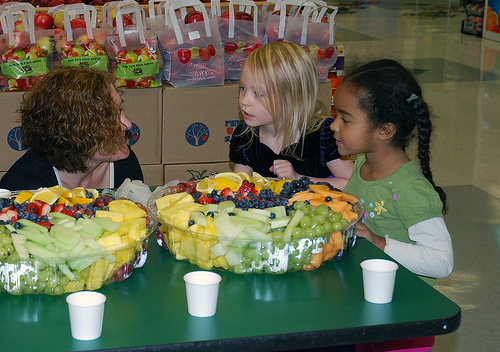 One of the most important things that we can do to help our children live longer, healthier lives, is to start teaching them about the benefits of eating well-rounded, wholesome meals and why it's so important to start following a healthy lifestyle now to avoid health complications later in life.
Here are my top 5 foods to help kids age optimally:
1. Healthy greens 
Healthy greens are high in folate and calcium and help to strengthen bones and improve memory and cognitive function. Unfortunately, most kids don't like vegetables because they're "yucky." So getting them to eat their recommended daily servings can be a daunting task to say the least. Try making vegetables fun. Maybe let them choose which ones they want to eat or let them help you prepare a salad or vegetable medley. If they are more involved in the preparation, they may be more inclined to enjoy their creations.
2. Whole grains
Whole grains are high in fiber, essential minerals and antioxidants and can significantly reduce the risk of a wide range of diseases and medical conditions, such as elevated blood sugar, diabetes, cardiovascular disease and cancer. Whole grains are an excellent alternative to white bread, which is loaded with simple sugars and carbohydrates. A good way to make sure they are getting the whole grains they need, without sacrificing flavor is to find a healthy breakfast cereal like Cheerios or Wheaties.
3. Berries
Berries are loaded with antioxidants. Antioxidants help to rid the body of free radicals that cause oxidative stress. Antioxidants have been shown to slow cancer growth, improve brain function and increase muscle definition. Berries are sweet, so they make a great healthy snack when mixed with some low-fat Greek yogurt. Just make sure that they are not eating too much fruit. Even though the sugars in fruit are natural sugars, excessive sugar intake – natural or not – can up their risk of diabetes and insulin resistance.
4. Nuts
This is another healthy snack option. Almonds and walnuts are teeming with healthy fats and protein that help improve heart health and reduce inflammation. Like berries, nuts can be mixed in with a low-fat Greek yogurt for a healthy after-school snack that won't ruin their appetite.
5. Teas
Kids love sodas, sports drinks and fruit juices, but too much sugar is never a good thing. A healthy alternative to these sugary soft drinks is tea. Tea isn't only better for you because it is sugar free, but also because it's rich in antioxidants that have been proven to lower cardiovascular risk and reduce the risk of developing Alzheimer's disease. If tea is too bland, try adding a little sugar or natural fruit juice. If kids replaced sodas and soft drinks with tea, we could probably cut the obesity rate in half.
Abraham Lincoln once said "It's not the years in your life that count, but the life in your years." In other words, it's not how long you live but how well that makes all the difference. When we were kids, we didn't know what we know now about the dangers of processed foods – partly because there wasn't as much junk food on store shelves and also because the technology just wasn't there. As parents, it is our duty to be informed and to transfer this knowledge onto our kin so that they can get the absolute most out of life.
(This post was written by Dr. Kenneth Varano, Philadelphia bioidentical hormone expert. Dr. Varano graduated from New York University in 1989 and then from the University of Health Sciences, College of Osteopathic Medicine in 1994. Now a fellow of the American Academy of Anti-Aging and Regenerative Medicine, Dr. Varano uses his education and experience and uses bioidentical hormone treatment to alleviate symptoms of adrenal fatigue, menopause, andropause and more.)