Do You Understand Your Grocery Coupon Lingo?
by Logan Clement
It seems that everyone is looking for ways to cut costs. But for some of us, the need to reduce the amount of money being spent is a serious issue. It is devastating to learn about the millions of children who are malnourished. Choosing between paying rent and buying groceries is a decision no parent wants to make.
Fortunately, there are ways to drastically reduce the amount of money you spend on groceries. For people wanting to trim their grocery budget, using coupons is a no-brainer.
One important thing to note is: coupons doesn't change the way you eat; they change the way you buy food. There is no reason you have to deprive yourself of your favorite foods, nor is there a reason to skimp on healthy items your family needs.
Understanding Coupon Lingo (Acronyms and Abbreviations)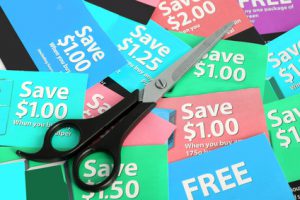 Perhaps you have decided to embrace the idea and are ready to start a coupon revolution in your family. But where should you start? The first thing you should do – even before opening the Sunday paper – is educate yourself about grocery coupon lingo.
For beginners, one step into an online coupon forum or a study of the newspaper's fine print will probably have you flummoxed. After all, who can understand gibberish like: B1G1F IPQ EXP 11/30?
Well…you can! Here is a list of common acronyms and phrases that you should be aware of as you hunt for grocery coupons.
General Coupon Acronyms
AC – After Coupon
AR – After Rebate
BOGO, B1G1 – Buy One, Get One (buy one item, get one of equal or lesser value free)
BOGO 1/2P – Buy One, Get One Half Price
CPN – coupon
CRT – Cash Register Tape
DND – Do Not Double
EXP – Expires
FAR – Free After Rebate
GDA – Good Deal Alert
HBA – Health and Beauty Aid section of the grocery store
HTH – Hope This Helps
IP, IPQ – Internet Printable Coupon
MFR 0 Manufacturer or Manufacturer's Coupon
MIR – Mail In Rebate
NED – No Expiration Date
OOP – Out of Pocket
OOS – Out of Stock
OYNO – On Your Next Order
PSA – Price Starting At
Q – Coupon
RC – Rain Check
TIA – Thanks In Advance
UPC – Universal Product Code
WYB – When You Buy
Coupon Codes Specific to Vendors
B&M – Brick & Mortar (locations with a physical address instead of online vendors)
EB/ECB – ExtraCare Bucks (CVS/pharmacy only)
ES, ESR – Easy Saver Rebate (Walgreens)
IVC – Instant Value Coupon (Walgreens)
RR – Register Rewards (Walgreens)
School Reward Program Acronyms
BTFE – Box Tops for Education
CLFE – Campbell's Labels for Education
Phrases Related to Coupon Location
Blinkies – Refers to the Smart Source Coupon Machines that blink in order to attract shoppers. They are usually located in the grocery stores, on the shelves, in front of the promoted product. The coupons found in these little red dispensers can be used in any store that accepts the manufacturer's coupon (you don't have to use it in the store you find it).
Peelie – Coupons attached directly to the product.
CNP – Coupon Near Product (when a coupon is displayed near the product)
HT or HGT – Refunds or coupons found hanging on a product
TEAR PAD, TP – Located on the shelf near the advertised product, these pads have removable coupons or rebates
WT, Wine Tag – These coupon or rebate cards are placed over the neck of a wine bottle. They can also be placed on other products packaged in bottles or jars. Generally, the coupons are for complimentary items, not the item the coupon is attached to.
Coupon Etiquette
Stacking – using more than one coupon for a product
Double Coupon – The value of the coupon can be doubled (usually on designated days)
Triple Coupon – A coupon that triples in value
Hopefully, this information will help you find lots of GDAs. After all, information about saving money has NED. You may find that your OOP spending decreases after reading this article and you save money WYB groceries. HTH.
(As a Clearwater graphic artist for Subtle Network, guest blogger Logan Clement naturally spends a lot of time on the internet. He recently stumbled upon a coupon forum and was fascinated by what he found. After just a few money saving trips to the grocery store, he is completely hooked on hunting for good deals!)