Asian Tofu Stew Recipe and Benefit
by Sandhya Paudel
Tofu stew is a delicious recipe from East Asia. Tofu is also known as soybean curd which is made by coagulating soy milk. It can be used in soups and stews. Tofu contains soy protein which contains all the essential amino acids that is required by our body.
Tofu stew can be made by using simple ingredients such as cumin, onions, firm or pressed tofu, tomatoes, garlic, ginger, turmeric, oil and cilantro.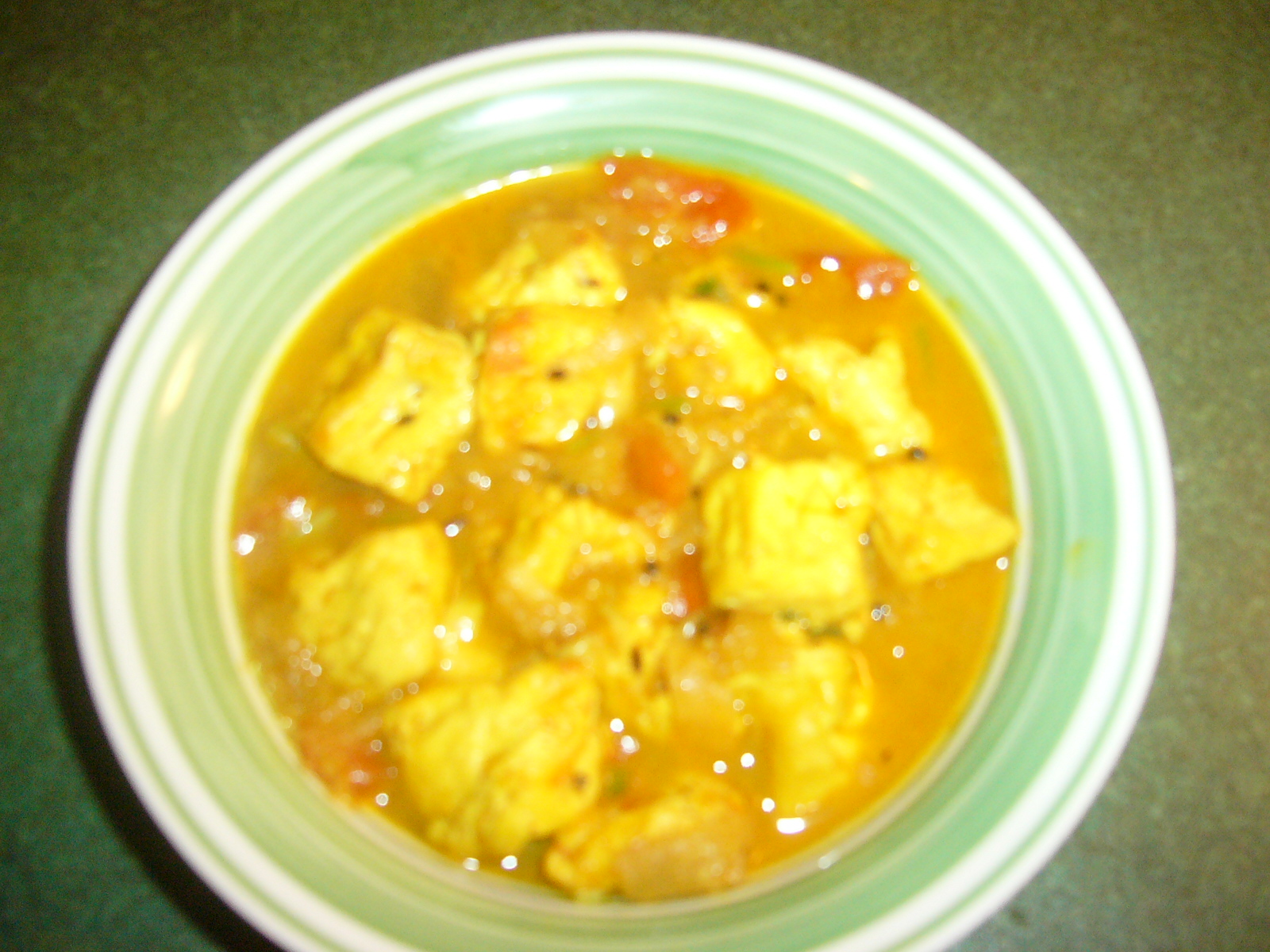 Preparation steps:
Heat 3 tablespoons of canola oil/vegetable oil.
Add 1 teaspoon of cumin seeds.
Add 1 small sized chopped onion.
Add 1/3 teaspoon of turmeric powder.
Stir the onions until it changes its color to slightly golden or brown.
Add 1 tablespoon of crushed garlic and ginger or its paste.
Add 1 chopped tomato.
Add salt to your taste.
Add 1 teaspoon of cumin powder or curry powder. (Other spices such as paprika or chili powder can be added based on your taste preferences.)
Let the spices and tomatoes cook for some time.
Cut about 340 gm of firm or pressed tofu into small cubic sizes and add them.
Stir all the ingredients for some time so that all ingredients are well-mixed.
Add 1 cup of water to make the stew, cook for 5-10 minutes in medium heat.
Garnish with cilantro.
Finally, serve with rice or bread or simply enjoy as a soup.
The ingredients mentioned above are available in most grocery stores. The dish is very simple to prepare and is very healthy. If you are a vegetarian or if you like tofu, this is an ideal option for you. Tofu- the main ingredient is very low in calories and fat content but rich in iron, calcium, magnesium, vitamins and fiber.
Ingredients like cumin and turmeric are well known for their antiseptic and healing digestive properties. Both cumin and turmeric contain anti-carcinogenic properties. Turmeric has been one of the important ingredients in South Asian kitchen since ancient times for its various medicinal values.
Natural foods like onion and garlic contain a variety of chemicals that strengthen our immune system. Garlic is widely used in reducing blood pressure for people suffering from hypertension.
Ginger is another natural food that is helpful in preventing various types of cancer, migraine headaches, flu, reducing pain and even menstrual cramps.
With all these points, tofu stew can be excellent choice for those who want to stay healthy with all the necessary nutrition that is required by the body. Even though there have been some conflicting stories about the benefits of soy protein, limited and right consumption of soy protein is good for your health.
(Sandhya Poudel is a graduate student at Springfield College in Massachussets with a major in Health Promotion and Disease Prevention with a concentration in Nutrition as well. She enjoys cooking healthy recipes in her free time.)