7 Mobile Apps That Make Fitness Fun
by Grady Winston
People are more likely to do a task more often if they're having fun while doing so. Sounds obvious, right? What's fun is appealing; it's human nature. The Mayo Clinic assures us that the same simple principle applies to exercise.
Of course, tastes vary, and what's fun to one person may seem like cruel and unusual punishment to the next. Fortunately, recent technological contributions to the fitness world make it easier than ever to customize your workout to ensure you meet your goals while still enjoying yourself.
Mobile apps can be used on your smartphone or tablet to help you plan your workouts, track your progress and learn how to meet your physical fitness goals.
Some apps act as virtual personal trainers, while others help you keep your workouts fresh and exciting. Whether you're training for a serious sports competition or just embarking on a healthier lifestyle, these fitness apps can help you achieve your goals while making fitness fun.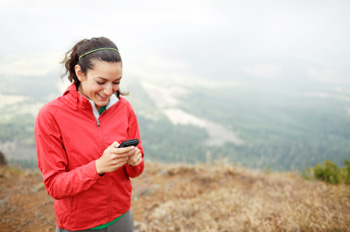 1. Lose It!
If you're a numbers person and small rewards get you excited, you'll love Lose It! This app takes the information you enter pertaining to weight and fitness goals, and helps you create a food and exercise plan to achieve success.
Connect Lose It! with Facebook or other social media venues and it will share your successes with friends and family as you lose weight or accomplish your workouts.
2. Fit Friendzy Exercise Challenge
To some people, working out alone is pure drudgery. If you would rather work out with friends but can't always do that, Fit Friendzy can solve your problem while helping you get fit. You and your friends from around the world can create an exercise challenge to participate in for some friendly competition.
This app offers a range of fitness plans with the intention of taking the "work" out of workout. Stay accountable by tracking your progress and, at the same time, cheering your friends on in their efforts.
3. Eat This, Not That!
A healthy diet is an important part of an effective fitness plan because, if you're eating is unhealthy, it will sabotage your weight loss efforts.
Eat This, Not That! will surprise you with the details on foods you thought were healthy, but actually aren't. Then, it takes things a step further by providing you with healthy alternatives so you're not left hanging.
4. iFitness
For those who really need to mix it up to keep their fitness plan fun and exciting, iFitness might be the perfect app for you.
More than 300 different exercises are offered and each one is detailed with pictures, text and video instructions. Create a variety of workouts so you don't have to do the same one each time.
5. BodyFate
Fun characters, like Mr. Good Karma, and inspirational quotes will keep you encouraged and having fun as you workout with BodyFate. If you've longed for a personal trainer but can't afford one, you'll enjoy working out with BodyFate.
This app changes up your workout every time you use it, and it's informative, challenging and fun to use.
6. iMuscle
The iMuscle app is the perfect tool to use if you're interested in taking your weights workout to the next level. With in depth muscle analysis, workout descriptions and lifting techniques this app can assist a casual user or fine tune an experienced lifter.
By simply tapping on a body part, iMuscle shows you a multitude of exercises focusing on that area with a 3D model of how to perform each lift.
7. Dining Out Guide
This free app was created by Jenny Craig to help calculate the nutritional breakdown of exactly what you're eating. Not everyone is going to adhere strictly to a specific diet, so the Dining Out Guide app aims to inform users of what they're eating.
New fitness apps are being created and introduced all the time; in fact, advances in smartphone technology and development tools have made creating more sophisticated applications easier for more people. Variety is the spice of life and keeping your workout fresh and challenging is the best way to lose weight, gain muscle or increase your running time.
More importantly, the fact that you're enjoying your workouts will make them feel less like work and more like play. Achieving your fitness goals is important and the feeling of doing so is wonderful. But, when you look forward to your fitness time because it's one of the most enjoyable parts of your day, then you know you've accomplished something wonderful.
(Grady Winston is an avid writer and internet entrepreneur from Indianapolis. He has worked in the fields of technology, business, marketing, and advertising implementing multiple creative projects and solutions for a range of clients. Through the use of applications and various development tools, Grady believes it is possible to maintain a healthy weight and lifestyle, no matter what the financial status or living conditions of an individual may be. Dedication, effort, and the will to be healthy are key factors to staying in good physical shape.)