10 Ways to Stay Fit This Year Without Paying a Thing!
by Yasmin Purnell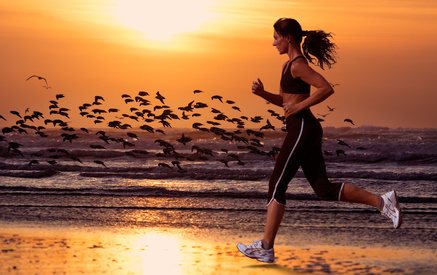 When you start taking care of your budget, it can be tempting to let your health be the first thing to slip – costly gym memberships, 'expensive' health foods and high-end activewear all make living a healthy lifestyle seem unachievable for a more frugal lifestyle.
However, this is absolutely not the case! Though the gym can offer many fitness benefits and a convenient place to workout, it is not the only place you can improve your fitness – especially if you're on a budget. Likewise, there are many types of healthy, nutritious foods that don't break your bank balance.
There are heaps of activities you can do without paying a thing, allowing you to workout and stay fit in the comfort of your own home or in the great outdoors.
I've compiled a list of the top 10 ways to stay fit this year, without paying a thing:
Running
Running is the first thing people will think of when you ask them to name a cheap form of exercise, but it's a popular sport for a reason!
All you need is a pair of trainers, and the world is literally your playground – hit the local park, find a peaceful pedestrian path, or just set out in your local neighbourhood to start enjoying the physical benefits running can provide whilst enjoying some fresh air in the outdoors.
Yoga
While many people choose to pay to attend yoga classes, it can actually be practiced anywhere. Yoga is a great form of exercise, with a gentle approach that enables you to build phenomenal core strength and flexibility in your own time.
There are heaps of YouTube yoga tutorials to help get you started with the basics, and when you feel comfortable, you can practice anywhere – your own room, a park, the beach – wherever takes your fancy!
Hiking
If you're not ready to dive into more strenuous workouts, hiking can provide a gentle form of exercise while being a fun day out. Look for hiking trails in your local area online, pack a picnic and set off for the day.
Often, hiking will allow you to see some absolutely breathtaking views from vantage points you'd never normally discover, so be sure to take your camera with you to take some shots as you go!
Rock Climbing
Rock climbing outdoors is completely free and requires next-to no equipment. To boulder, you simply need a pair of climbing shoes and a crash mat – although if you've got a more experienced friend to take you, they'll probably have gear to let you borrow!
Swimming
Wild swimming is growing in popularity as a sport, allowing people to get outside and enjoy nature as they work out.
Check out wild swimming locations in your area to ensure you are swimming in safe locations and after that, you can take the plunge and experience the true joy of swimming in the open air!
Boxing
Shadow-boxing or sparring with a friend doesn't need to cost anything, and can actually be a great workout for your cardiovascular system, arms and core.
I'd suggest watching a few tutorials online to get an idea of the correct stance and how to burn your energy the most efficiently.
Dancing
Dancing costs nothing, is an excellent workout, and most importantly of all, it's great fun! You don't even need a partner to be able to put a song on and bust out some moves to work up a sweat and guarantee a lasting smile on your face all day.
If you want to get a bit more technical, load up an online video teaching you the steps to a song and before you know it you'll be showcasing your talent on the dancefloor for everyone to see!
HIIT Workouts
HIIT workouts have grown rapidly in popularity over the past few years, and for good reason – for just 15 minutes of gruelling exercise, you'll lose weight, gain muscle and keep burning calories for up to 24 hours after your workout.
There are many HIIT workout routines available online that require no equipment, allowing you to workout in your own home needing nothing but your body. There are a huge range of routines available, but remember the key message is to work as hard as you can for that short amount of time to really feel the benefits!
Gymnastics/Bodyweight Fitness
Bodyweight fitness requires no equipment to provide an intense workout that will guarantee gains in strength and flexibility.
From simply practising press ups, one-legged squats and handstands in your bedroom, to seeking out an outdoors park for pull ups and dips, bodyweight fitness is a simple, cheap way to stay fit and have fun while you're at it.
Cycling
Of course, cycling does require some investment in the form of a bike. However, second hand bikes can be found extremely cheap online and once you've got one, you don't need to pay a penny more to enjoy the many benefits of cycling.
From cutting down your environmental impact by cycling instead of driving to work, to drastically improving your fitness by getting on your bike for even just 30 minutes a day, picking up cycling as your chosen form of exercise this year will have many significant long-term effects.
(Yaz blogs about living a healthy and active lifestyle on an achievable budget over at The Wallet Moth. Covering everything from meal-cost breakdowns, savings, to how anyone can fund a trip around the world, check out her blog for some killer insights into managing your own personal finances!)