Food Dyes: The Hidden Danger to Your Health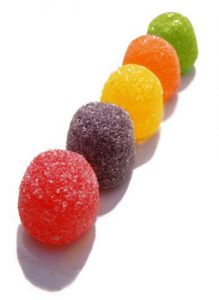 Do you have a hyperactive child? Are you suffering from an allergic reaction you can't quite explain? The culprit could be as close as your favorite candy, soda or breakfast cereal. You may have heard of wheat allergy or lactose intolerance, but did you know food dyes can also cause serious health problems? Learn how food dyes create a hidden danger to your health and what you can do about it.
Purpose of Food Dyes
When food dyes were first used in the 1800's, they were made from coal tar oil. Today, they are made from petroleum. The main purpose of food dyes is to enhance colors and to add color to naturally colorless foods.
Some food dyes are also added to avoid natural color loss and to provide consistency in colors. All of this is to make the processed food look more attractive and appealing to buyers.
Hidden Health Dangers of Food Dyes
Though food dyes may make cereals and candy look pretty (especially to children), they have been known to cause serious health problems. These include:
Behavioral Problems in Children
One of the most common hidden health dangers of food dyes is behavioral problems in children. Red #40 and Yellow #5 especially have been linked to ADHD, hyperactivity, irritability, learning difficulties, aggressive behavior and insomnia.
Yellow #5, Yellow #6 and Red #40 contain compounds called benzidine and 4-aminobiphenyl, which have been linked to cancer. Shockingly, the FDA has admitted the connection between Red #3 and certain types of cancers, yet it's still allowed in the food supply!
For a better breakdown on food dyes and cancer, click here.
According to J.K. Paulsen, M.D. – Bariatric Physician, "The body naturally manufactures fat in abundance to incarcerate and absorb chemicals and toxins that accumulate over time." Simply put? Processed food, synthetic dyes and preservatives make you gain weight that's hard to lose!
The other hidden danger food dyes pose to your health is allergic reaction. Many people experience unexplained itching, swelling, rash and shortness of breath they can't trace to a specific source. So, they pile on cortisone cream or pop antihistamines but never get to the real source of the problem. In severe cases, an allergy to food dyes can cause asthma or anaphylactic shock.

Common Food Sources of Synthetic Dyes
Synthetic food dyes are most commonly used in processed foods and soft drinks. Sodas, candy, breakfast cereal, gelatin desserts, fruit juice, the icing on cookies and donuts, and ice cream are common sources of synthetic food dyes.
Other Sources of Synthetic Dyes
Believe it or not, synthetic dyes are not restricted to food. You can find them in conventional cosmetics, toothpaste, prescription and over-the-counter medications too.
A Rainbow of Poison – Codenames for Common Food Dyes
Sometimes food dyes are easy to spot, sometimes not. This list will help you pick out some codenames for common food dyes so you won't be fooled:
Reds
Red 2G
Allura Red AC
Ponceau, Brilliant Scarlet
Carmines
Cochineal (Made from Insects)
Azorubine
Carmoisine
Amaranth (Not to be Confused with the Gluten-Free Grain)
Erythrosine
Blues
Patent Blue
Indigotine, Indigo Carmine
Brilliant Blue
BlueLake1
Yellows
Quinoline Yellow
Yellow 2G
Sunset Yellow
Tartrazine
Greens
Acid Brilliant Green, Green S, Food Green
Fast Green
Browns
Caramel
Chocolate Brown HT, Brown HT
How to Avoid Food Dyes
The easiest way to avoid food dyes and their hidden health dangers is to avoid processed foods. Instead, choose whole-foods such as chicken, fish, meat, organic fruits and vegetables, beans and legumes.
Also, become a label-reader. Once you start investigating the food you put on your table, you'll start to understand why they can cause so many health problems.
Natural Food Dyes
Thankfully, not every snack food contains synthetic food dyes. There are plenty of organic and holistic foods that use natural food dyes. Look for ingredients such as annatto, capsanthin, grape skin extract, saffron, elderberry, turmeric, pandan, butterfly pea, gardenia blue, lutein, gardenia yellow, cabbage red, lac dye, purple sweet potato red and logwood color.
Synthetic food dyes can pose a hidden danger to your health. They have been linked to hyperactivity in children, obesity, cancer and allergic reaction. The best way to avoid these synthetic food dyes is to avoid processed food and eat whole food. Also, there are plenty of natural snacks that contain natural food dyes.
Avoiding processed food containing synthetic food dyes can have you well on your way to healing naturally in an unnatural world.