What is Green Exercise and Why It is Important To Our Well-Being
by Jane Chitty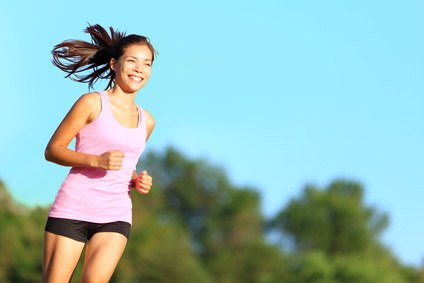 This site is all about health on a budget and of course one of the easiest ways to improve your health inexpensively is through exercise.  Even if we don't all participate in regular exercise, we are all well aware of how important exercise is to our general health and well being – both physical and mental.
But now there is a new element to our exercise and that is "how green is it?"
For the past decade, a research team at the University of Essex in the United Kingdom have been studying the subject of green exercise.  They have found growing evidence that exposure to green space brings substantial mental health benefits but, when combined with physical activity, the positive physical and mental health outcomes are even greater.
Green exercise is defined as 'performing physical activity whilst directly exposed to green space'.  It is all about connecting people to nature through informal physical activity. At the heart of green exercise is the concept of biophilia – which literally means 'love of life or living systems'.
In simple language – and just as we have always suspected – nature just makes us feel good.
Although people and animals tend to participate in green exercise as a matter of course, its potential role in physical and mental health has attracted increasing attention during the 2000s, particularly with this English research team.
They have found that regular green exercise means:
Improved mental health through enhanced self-esteem and mood.
Facilitating physical activity, which in turn leads to improved physical health, lowered blood pressure, increased heart rate variability and less obesity.
Reduced stress and restored mental fatigue with calming and positive mood effects.
Enhanced immune function through increased natural killer cell activity.
But there are other 4 important reasons why people really enjoy green exercise:
1. Enjoy Nice Scenery With Company of Friends or Family
It can mean that, along with the exercise, you can share the company of friends, family or your dog; or it can be a time for being on your own to think, to observe and to enjoy everything around you.
You will benefit from the sensory stimulation of green exercise with sounds, smells and of course the fresh air.
Even if you start out on your green exercise stint feeling a bit down or even depressed, you are more than likely to return with a heightened sense of well being.
2. Challenging and Fun Way to Exercise
The activity itself of perhaps walking, hiking, jogging or cycling is important too. You might be walking on the edge of the ocean, enjoying the water or the sand or it could be hiking in the hills, cycling on rural roads or just taking in the sights and sounds of your local park.  Whatever it is, there is the energy of the physical activity and perhaps even the exhilaration of achieving a particularly physically challenging task for the first time.
3. Sunlight and Vitamin D
During warmer weather, don't forget the twin benefits of sunlight and grounding (or earthing).  Sunlight  is vital to top up your vitamin D levels.
You can safely expose as much skin as possible until it starts to turn pink.  The darker your skin tone, the more sunlight exposure you need.  We all need sufficient levels of vitamin D – the feel good hormone – for optimum health.
4. Grounding
The basics of grounding are that you walk barefoot on grass, sand, earth or in water or swim in a natural body of water such as a lake or the sea so that your bare skin has as much contact as possible with a natural element.
Hugging a tree will work too or getting down and dirty in your garden with your bare hands!
The more contact, the more advantages to your general health and well being.  The Earth is a massive reservoir of negatively charged free electrons but without a connection to this reservoir, the cells in our body are unable to balance the positive charge which results from things like electron-deficient free radicals.
If you are on your own when carrying out your green exercise, use the time to reflect and meditate as you escape from the stress and strain of modern life. Everyone benefits from just clearing their heads from time to time.
The American Chemical Society's semi-monthly journal "Environmental Science & Technology" pointed out that just five minutes – yes 5 minutes – of exercise in a park, working in a backyard garden, on a nature trail or other green space will benefit mental health.  And of course such exercise can be very budget friendly too.
No longer can anyone use the excuse of not having enough time. 
What are your thoughts about green exercise? Please leave your comment below.
(Jane Chitty writes regularly for Healing Natural Oils, a producer and retailer of high-quality, all-natural treatments for a variety of conditions (including acne, arthritis, moles, warts, skin tags and many more). Jane now lives in Somerset, England, after many years in South Africa.  She is able to visit the USA from time to time because of close family living there. She loves to compare natural treatments and lifestyles – especially in the areas of health, green living and nutrition – in these three very different countries . Her regular posts can be found at www.amoils.com/health-blog.)