Vegan Recipe Ideas for School Lunch
by Heather Moore
During National School Lunch Week, October 14 to 18, schools are supposed to teach children about nutrition and the importance of making smart food choices. And yet, the mystery meat, chicken nuggets, cheese pizza boats, and other fatty, cholesterol-laden foods commonly served in schools can put children at risk for weight problems and even heart disease.
According to the American Heart Association, atherosclerosis—hardening of the arteries—begins in childhood and progresses slowly into adulthood. The American Academy of Pediatrics has even told doctors that it's OK to prescribe cholesterol-lowering drugs for children as young as 8. Yikes!
Thankfully, there are healthy and inexpensive ways to make sure that your child stays slim and has a safe cholesterol level. Teach him or her to exercise and eat healthy plant-based foods, which tend to cost less than meat, eggs, and dairy products.
Kids who develop a taste for wholesome vegan foods—which are cholesterol-free, low in saturated fat, and rich in complex carbohydrates, protein, fiber, vitamins, and minerals—learn healthy habits that last a lifetime.
As the late Dr. Benjamin Spock wrote, "Children who grow up getting their nutrition from plant foods rather than meats have a health advantage. They are less likely to develop weight problems, diabetes, high blood pressure, and some forms of cancer."
Although you can't follow your child to school every day and make sure that he or she eats a healthy vegan lunch, you can urge school officials to serve more nutritious meatless meals. The Physicians Committee for Responsible Medicine has a healthy school lunch campaign and offers tips to help parents get more plant-based meals served in schools.
And you can always pack your child's lunch. Make fun and simple dishes and sneak in even more fruits and vegetables whenever possible.
For example, if your child likes hummus, finely chop up some veggies, mix them in the hummus, and wrap it all in a soft whole-wheat tortilla.
If he or she is a fruit smoothie fan, sneak in a bit of puréed spinach or avocado chunks.
Older kids and teenagers who may be used to eating hamburgers, hot dogs, and chicken nuggets can enjoy healthier mock meats or other nutritious meatless meals, such as pasta primavera, three bean and corn salad, and tofu-egg salad.
Here's a homemade hummus recipe and some other ideas from PETA to get you started. Just pop the lunchbox in the freezer overnight, or put a cold pack in it to keep everything fresh. And it definitely helps if you set a healthy example by eating the same types of nutritious foods that you serve to your son or daughter.
Vegan Hummus Recipe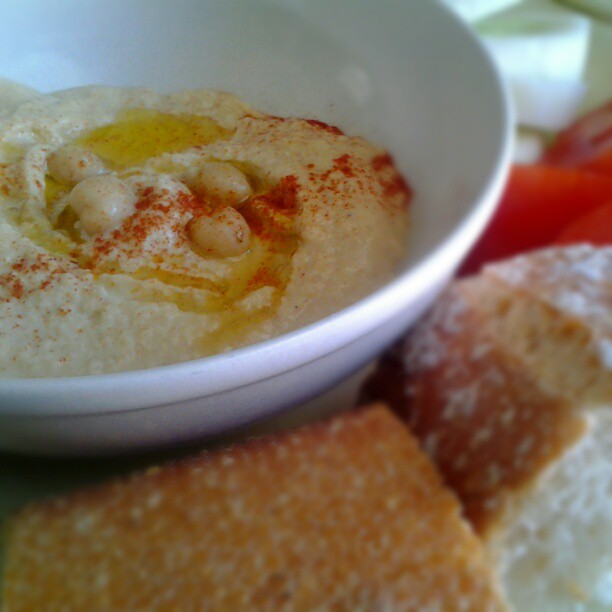 [Credit: Lablascovegmenu | cc by 2.0]
Ingredients: 
1 lb. chickpeas, cooked
3 cloves garlic
2–3 Tbsp. lemon juice
2–3 Tbsp. water
1/4 cup chopped parsley
1/4 cup chopped coriander
3 Tbsp. + 2 tsp. olive oil
Salt, to taste
1/2 tsp. paprika
Recipe Steps: 
Put the chickpeas, garlic, lemon juice, water, parsley, and coriander in a food processor or blender and blend into a smooth paste. Gradually add the 3 tablespoonfuls of olive oil, stirring constantly. Stir in the salt.
Pour the hummus into a serving dish. Drizzle with the remaining olive oil and sprinkle with the paprika. (Don't forget to sneak in some shredded carrots, lettuce, celery, sliced grape tomatoes, or any other vegetables that your child will eat.)
Serve at room temperature.
Makes 4 servings
Vegan Cold Pizza Pocket
Ingredients
1 whole-grain pita pocket
2 Tbsp. tomato sauce
1 cup assorted fresh vegetables
1 Tbsp. vegan cheese (optional)
1 tsp. basil or oregano (optional)
 Recipe Steps:
Tear the pita in half, fill with the remaining ingredients, and enjoy!
Makes 1 serving
Vegan Build-Your-Own Burrito
Ingredients:
2 Tbsp. salsa
1 Tbsp. guacamole
2 Tbsp. black beans
1/4 cup cubed baked tofu
1/4 cup chopped lettuce
1 Tbsp. chopped onions
1 Tbsp. chopped red peppers
1 soft tortilla shell
 Recipe Steps
Place all the fillings on the tortilla. Roll up and start munching!
Makes 1 serving
Mock Tuna Salad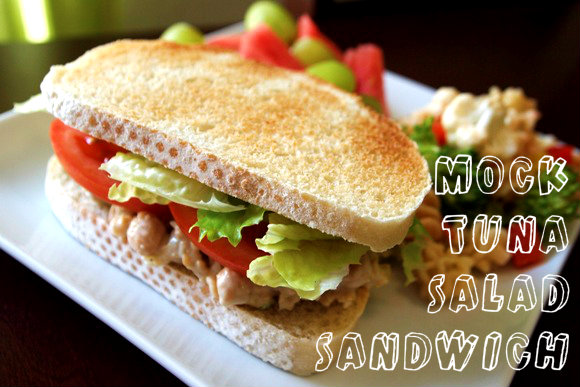 [Credit: PETA]
Ingredients:
1 qt. garbanzo beans, cooked or canned and drained
1/2 cup finely chopped celery
1/2 cup finely chopped onion
1 Tbsp. Dijon mustard
Sea salt, to taste
2 Tbsp. vegan mayonnaise
 Recipe Steps:
In a large bowl, mix together all the ingredients except the vegan mayonnaise, mashing the    garbanzos slightly as you mix. Add the vegan mayonnaise until the salad is as moist as you like.
Serve on a bed of lettuce or in a sandwich.
Makes 4 servings
Simple Trail Mix
Ingredients:
1/4 cup mini pretzels
1/2 cup mixed nuts
1/4 cup dried pineapple
1/4 cup raisins
1 vegan chocolate bar, roughly chopped
1/4 cup coconut flakes, optional
 Recipe Steps:
Mix all the ingredients together. Store in an airtight container.
Makes about 2 cups
(Heather Moore is a staff writer for the PETA Foundation. Her writing has appeared in numerous publications, including the Washington Post, USA Today, the Chicago Tribune, and many other newspapers and magazines. In her free time, Heather enjoys watching Orioles baseball games, going to the botanical gardens, and eating at vegan-friendly restaurants.)