Losing Weight on a Starving Artist's Budget
by Eric Chornoby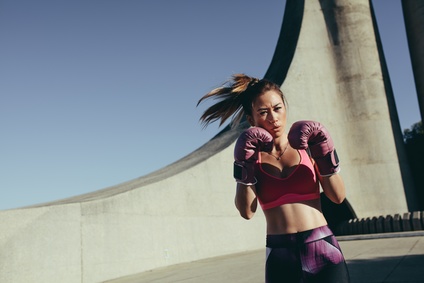 Starving artist may be a stretch. The budget we are working with is less – a lot less. But less glamorous and far less known that the budget of a starving artist. I was a starving Boxer. As an Amateur Boxer, I was being paid in experience.
Experience does not pay the grocery bill.  By time the money came, I was only making a few hundred dollars a fight. And fights only came every few months. This means even working a full-time job, I was buying groceries with a pittance.
Organic is Expensive – Healthy is Not!
We all know some foods should be purchased organic. Fruit like strawberries have a porous skin, and should be purchased as organic. Then again, those of us on a budget are not buying strawberries. I am lucky if I could buy a watermelon from the discount fruit store when they were in season.
Those of us really on a tight budget, organic is no-where near the conversation. The conversation starts with what can fill me up and leave gas money in my wallet.  What you need to know about organic is, only some foods are proven to be beneficial as organic. The rest is just marketing. Unless the food you are buying appears on one of the many 'essential organic food' lists, you can buy the regular variant.
Since we are being honest, most food on a meager budget will not be the type of food you need even need to worry about being organic. We are not buying fresh greens and porous fruits. We are going for bang for the buck.
What is in the Budget and How Much Food do I need?
A minimum wage job, and a few hundred dollars every couple month left me with an $80 dollar a month grocery budget. I did have an advantage, I could buy in bulk once I had a payout. $20 dollars a week is absurd to most people. In fact, a morning latte alone eats the entire budget.
If you eat three meals a day, you need 1,095 meals a year. This is a bland way to look at it, but when on an extreme budget, it is what you are working with. If you need 1,095, you can easily figure a standard month requires about 90 meals.
The Bulk Economy Shopper
Every time I came into extra cash from boxing, I went grocery shopping. The menu is plain, but very healthy. It starts with a phone call to local restaurant supply centers. Even stores like Costco may have you covered, and Amazon too. You can find supply stores online offering huge savings.
1.      50 Pound Bag of Rice
You can get a 50-pound bag of brown rice for about $30 – $40 USD.  A serving of rice is about 1 and a quarter cups. That means a 50-pound bag is about 425 servings.
You do not want it every day or every meal, but for $40 dollars you have enough healthy brown rice to last at least three months.
2.      20 Pound Bag of Black Beans
Dehydrated black beans are full of protein and cheap. Cheap as in about $12 – $15 per 20-pound bag.  One pound of dried beans equals about 6 cups of cooked beans. A serving of beans is a half-cup.
A pound of dehydrated beans gives us 12 servings. 20 pounds will give us 240 servings. Again, enough for three months.
3.      Onion and Peppers
I would buy discount onions and peppers by the bushel for only a couple dollars. A three-month supply of onions and peppers would be just a couple bucks.
Onions and peppers freeze very well. Other vegetables do not. I always stock up on onions and peppers because in a pinch, they add volume and flavor.
4.      Ground Chicken
Going to your local grocery store means you will pay about $2.99 a pound for ground chicken. At 92% fat for ground chicken, it is lean and healthier. A lot healthier than beef. I switched all my cooking to chicken over the years. It is cheaper than beef and with a couple tweaks, tastes better.
You can get ground chicken for $1.99 a pound when on sale, or at a local butcher for under $1.99 a pound. Ground chicken also freezes very well and can be thawed easily. Unlike everything else on this list, Ground chicken is relatively expensive. But it is healthy, and less expensive than other meat choices.
Getting Ripped on a Fighters Budget
No matter what any fitness expert tells you, no one is as fit as a boxer. How does the average boxer get into shape? A lot of cardio, and time spent in the ring. Boxers start out broke. No money for fancy meals or expensive stakes.
How I put my diet together to get in shape was simple. Carbs or starch to be full, Protein for muscle building and maintenance, and some fat for mental clarity. Rice is cheap and filling. Chicken is super healthy and versatile, and beans are full of nutrients, fat and protein to keep you going even on a budget.
The rest of the grocery allowance is spent on fresh fruits and veggies. I often found myself with a little extra in my pocket and I had food leftover every month. The diet was lacking in variety but completely worked. My best advice is to learn to cook with rice and be willing to buy different beans and use chicken in creative ways. You can make 1,000's of dished with those three ingredients and never have the same thing twice. Unless you want to, that is.
(Eric is the founder of Approaching Fitness, a fitness website based on scientific research and real-world experience. Using his background as a boxer and losing over 100 pounds himself, Eric applies what he has learned to help others lose weight and become fit.)