Improved Male Virility and Other Health Benefits of Ginseng Tea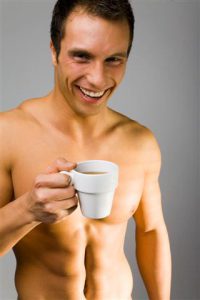 If you struggle with lack of vitality in the bedroom, you're not alone. Millions of men just like you have lost their sex drive due to stress, age, diet and other factors. Most men are embarrassed by the problem and reluctant to talk with their doctor. Luckily, there's a natural herbal tea called ginseng that can help. Read on!
The History of Ginseng
Literally translated, ginseng means, "man's root", which means to serve the health needs of man. The plant itself is naturally formed in the shape of a man, its roots spreading out to simulate the human form. The Chinese have used this health-promoting root medicinally for thousands of years to keep the mind and body in balance.
Can Ginseng Improve Your Sex Life?
According to a study published in the Annals of The New York Academy of Sciences, both Asian and American forms of ginseng have been clinically proven to enhance libido and sexual performance in laboratory rats. It is believed that while the herb had no direct effect on hormone secretion, it enhanced sexual performance by improving dilation and circulation of the blood vessels in sex organs. Ginseng also affects the central nervous system, altering the activity of the hypothalamus and improving hormone secretion.
More than half of men over age 40 worldwide experience problems with erectile dysfunction. According to a study published in the Journal of Urology, men who used Korean Red Ginseng experienced improvement in sexual function after taking the herb three times per day for a period of eight weeks.
Other Health Benefits of Ginseng Tea
Improves Memory and Concentration
Ever walked into a room but couldn't remember why? Do you often struggle to remember names, dates and events? Trouble with memory and concentration is an unfortunate consequence of living in a fast-paced world. According to studies, American ginseng has been clinically proven to improve memory, concentration and reaction time in young adults.
Anti-Aging Properties
It isn't easy getting old. Just while your memory and energy level is declining, your blood pressure and cholesterol levels are shooting through the roof! Ginseng tea helps improve memory and cognitive function and can help give you a boost of energy. It also helps stabilize blood sugar and blood pressure, giving you an overall feeling of wellness and vitality.
In addition, ginseng tea helps reduce the affects of stress, a number-one contributor to heart disease. This overall health tonic is the ideal anti-aging supplement when you're looking for something more than just skin deep.
Helps Lower High Blood Sugar
Research has proven that a cup of ginseng tea consumed several times per day can lower high blood sugar in those with type II diabetes.
Aids in Weight Loss
If you're looking to drop a few pounds but want to avoid the diet fads, try a hot cup of ginseng tea. Ginseng gives you a natural energy boost and prevents your body from storing fat. Perhaps this is the reason there is little occurrence of obesity in China?
Gives a Natural Energy Boost
Fatigue is a common problem in today's society. You may struggle with insomnia or find that poor diet and stress have sapped your energy away. Try starting the day with a cup of ginseng tea instead of coffee. You'll be surprised at how much clearer and alert you feel.
Cuts Cancer Risk
The health benefits of ginseng tea may go on to lower the risk of certain types of cancer. Laboratory studies have suggested that certain compounds in ginseng tea have anti-cancer properties.
Boosts Immune System
Siberian ginseng has been shown to increase T-cells, which may indicate its ability to naturally strengthen the immune system. In one double-blind study of 93 people with genital herpes, those taking Siberian ginseng noticed fewer outbreaks.
Lowers Cholesterol Levels
Studies have shown that the health benefits of ginseng tea also extend to an improvement in cholesterol levels. A cup of ginseng tea can help maintainHDL("good") cholesterol while lowering LDL ("bad") cholesterol.
Types of Ginseng Tea
There are three main types of ginseng tea and they each offer their own unique health benefits.
Oriental Ginseng – There are two types of Oriental ginseng, white and red panax. Red panax is the most common type and the most widely used. White ginseng is exceedingly rare and can command a price of twenty thousand dollars an ounce.
Siberian Ginseng – Siberian ginseng is not truly a ginseng but a natural cousin of the Oriental species.
American Ginseng – American ginseng is native to the mountain regions of theUnited States.
The Best Pre-Packaged Ginseng Tea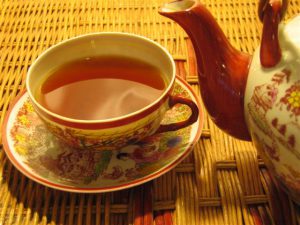 Organic Green Tea Ginseng Mate
This tea is a combination of true green tea and ginseng. It contains only pure organic American ginseng root, organic green tea, fresh Yerba Mate and Echinacea.
Celebration Herbals
This pure tea contains only 100% American ginseng and no other additives or preservatives.
Yogi Tea Organic Royal Vitality
This tea contains a strong mixture of pure organic ingredients including ginseng extract, cinnamon, dong quai and organic alfalfa.
Stash Premium YMY Green Tea with Ginseng
Stash green tea with ginseng contains only two ingredients: Green tea and ginseng.
Ginseng Tea Contraindications
Though there are many health benefits associated with ginseng tea, it is a strong stimulant and should be used with care. Overdose of ginseng may cause feelings of jitteriness, nausea, abdominal pain, heart palpitations, digestive problems, dizziness and insomnia.
Ginseng may also react negatively with prescription medications such as digoxin for congestive heart failure and coumadin, a blood thinner.
Pregnant and nursing women should avoid ginseng and all other natural remedies without consulting their doctor.
Ginseng tea has many great health benefits. It may help improve your sex life, memory, concentration and mood. This herb can also help you lose weight naturally. If you're looking to improve your virility and overall well-being, a cup of ginseng tea may be the best way to start your day!