Ideas for Free Organic Food Coupons Online
The Search for Free Organic and Natural Food Coupons
Emily Parker
Apr 3, 2011
You don't need to pay for a newspaper anymore to clip coupons because you can easily check out coupon sites online. Websites like Smartsource and Redplum.com have printable coupons for grocery shopping. By joining their mailing list each week for updates, you can sort through and print out their weekly offers. I suggest you search these sites for organic coupons to find the best value fast.
For those of us keen on only eating 100% natural foods, sometimes it doesn't make sense to save $1 off 3 boxes of cereal we would never eat. Although it is a little more difficult to find coupons for the products we love, there are organic coupon sites like OrganicFoodCoupons.com and Grocery Coupon Guide – Organic that are working hard to find better options for healthy living. It is not cheap to buy healthy foods, unfortunately. Heck, if it were cheap & easy to eat healthy we wouldn't have an obesity epidemic! But, in the end it is much more affordable than potential medical bills in the future for diseases or conditions that could be caused by eating high fat and artificial foods.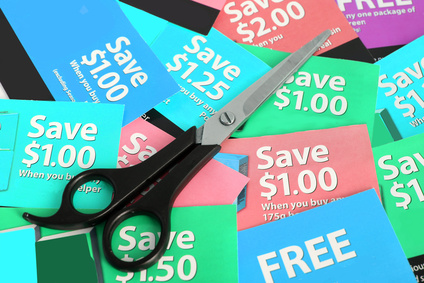 As we know, the healthiest foods for purchase are in the produce, diary and meat aisles, being that they tend to be the most natural. (Read this article from Health On a Budget about finding the best produce bargains!) But for those foods you gotta have that come in packaging, check out the manufacturer's website for a price break. Companies like Bear Naked will provide you with savings in minutes for sharing your email account. Set up a Hotmail or Gmail account online just for gathering savings if you want to avoid clutter in your inbox! Many times companies will also provide you with free offers if you participate in a survey. For instance, Bare Naked is offering $1 off coupons for your opinion.
Another method to find coupons is to look on your favorite local grocery retailer's websites. If you're a fan of Whole Foods Markets – check out their coupons section for breaks on their natural products!
Even some diary companies like Organic Valley have coupon sections on their site. If you do a little research on products you've learned to love over the years, you can stock up on some coupons before you head out to the store.
Drugstore.com offers discounts for various natural products as well. If you are interested in brushing your teeth with a natural toothpaste (hey, you don't eat it but you definitely ingest some of it!), this site usually offers discounts for Tom's from Main products. Tom's also produces all sorts of natural personal care products.
There are cases when your time is worth more than searching for that $0.50 coupon for a product that costs $10 on it's own. So be smart and savvy with your savings search. Consider when it is worth the time to fill out a survey for the payout. Try to do all your coupon savings & printing all at once to maximize your efficiency.
(Emily is a Professional Organizer and Event Planner out of New England. She is also a triathlete and runner, who is passionate about staying fit and healthy in all aspects of life. Emily strives to find a true balance between fun, work, health, & enjoying time with loved ones.)