How to Stay Healthy and Active After Baby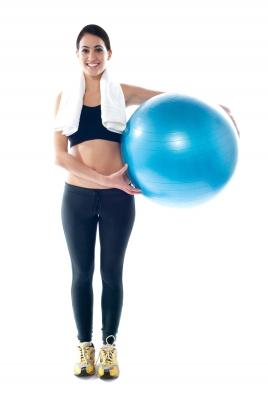 There is no argument that having a baby changes everything including your body. To many this can be discouraging if you value your health & fitness. I urge you to remember that the ultimate goal is to sustain optimal health and balanced energy to be the best mom you can be for baby.
The advice is best suited for someone who recently had her first baby. Nevertheless, some of it will serve as a great reminder and can still be used for those with multiple children to chase around. I've thrown in a few tips for low cost options along the way.
I am not a fitness professional, but I am experienced in working my schedule around a baby. I was proud to be able to compete in two triathlons within ten months of having my baby. It wasn't about looks or weight loss. It was about feeling strong, confident and giving my daughter someone to look up to.
Speak to your doctor about getting the green light for working out post baby. Do not shy away from getting out of your comfort zone, but always be wary of injuries or fatigue.
Start Small
Like any new commitment, it's most achievable if you can set small goals. For instance, completing a 10-20 minute workout will help stimulate blood flow and chances are you will stick to the it. You can find short workout clips for free on YouTube by Googling your favorite activity.
Just Push Play
One of the hardest parts about getting into a workout routine is often starting it, whether it's putting on your sneakers or pressing play on the DVD. Then comes baby and dozens of excuses to add to it.
Your fear may be that baby might cry or fuss mid-workout. Guess what? He or she might and if that happens you will go to the baby and try again next time. The best workouts if you do not have childcare are done at home on inexpensive DVDs or videos.
The key is that sometimes the baby will not wake and you will find yourself finishing the workout and maybe getting in a 10-minute shower [shocking!]. Don't let that be an excuse because getting it in half the time is better than never.
Enable Yourself
Before putting baby down for a nap or before getting out on the road with a jogger, prepare. Lay out your mat, put on your workout clothes, be sure the baby is changed and fed, etc.
This is the biggest key to successful workout habits.
Planning ahead will lower the chances of failure. If you spend 20 minutes getting yourself dressed and ready for the workout, you've already lost precious time.
Any day you think you might have time for a workout, wear your workout clothes or have them handy [if possible].
Keep in mind the outdoors is the best gym you will find – cheap and right outside your door! Be prepared for hot, sunny weather with hats and sunscreen or cold weather with hats and blankets.
Be Flexible
This goes hand-in-hand with the above. Chances are you might discover baby fell asleep unexpectedly. But you just ate a big lunch. Do your best to always be ready for even a low impact workout. That means smaller meals throughout the day that don't leave you sluggish. (Seeing a theme here?)
Also, you may have just showered, but it's time to be flexible and get fit! Don't lose those opportunities. Your baby will often control your day so learn how to work around him/her.
Condition Baby
Best advice we received was as runner parents, get your baby used to you having a workout early on. They do not know what is normal yet and if you make it part of baby's regular routine, she/he will think nothing of it. That ranges from at home DVD, walk or jog outside or at the mall or a baby wearing hike [All mostly free!]. Get creative!
Stick to What You Love
This one goes for anyone getting fit. Your exercise activities should be something you enjoy [or don't hate] because if you don't like them, you won't stick to a routine.
Having a baby only exacerbates that truth. Between being consumed with love for your baby and fighting fatigue, you need all the motivation you can in choosing the right activity for you.
Don't Wait
Sometimes babies do not sleep through the night, sometimes they do. If you are a co-sleeper or have a baby that wakes often, do not wait until you are getting 7-8 hours of sleep in a row. If you do, you will likely start your workout regime in about 18 years!
Depending on your age or health, 5-7 hours of broken up sleep is still good enough to get a 30 min workout in everyday, even if its low impact. As long as you are eating well and resting best you can, there is no reason to hold off. We are not talking about intense workouts where you might deplete your body of nutrients. I am referring to just low impact cardio until you feel the strength to go for more.
Nobody ever says, I wish I didn't do that workout. Good luck and don't quit!