How to Make Your Own Homemade Hair Care Products
by Ann Ruble
Have you ever bought a bottle of shampoo, taken it home, used it once, and discovered you absolutely hated what it did to your hair? What did you do then? Suffer with unmanageable hair for months while cursing that shampoo company every time you reached for the bottle?
Or did you simply throw it away, wasting your money and heaping one more thing onto the local landfill?
Why put yourself, your wallet and your environment through all that heartache? There is a much better solution – make all your hair care products at home.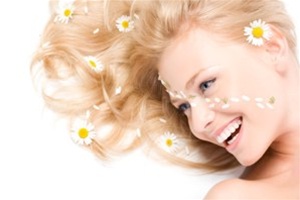 You can make your products at home for mere pennies by using supplies you already have in your kitchen pantry. Compared to pricy store bought options, this is a no brainer. Plus, these recipes make small batches of the products you need.
If you try one out and learn it isn't a good match for your hair, you've only invested a small amount of supplies.
There are so many benefits to making your own hair care products at home. In fact, it's a wonder anyone actually purchases supplies at all! To see for yourself, try out these homemade hair care recipes.
Cucumber Hair Drench
People who spend a great deal of time in pools full with chlorine know all about dried, damaged hair. This homemade concoction will supply much needed nourishment while restoring luster and shine.
Put one egg, a smidgen more than a tablespoon of olive oil and ¼ of a peeled cucumber in the blender. Pulse until completely blended. Slather the mixture generously over hair and allow it to penetrate for ten minutes. Rinse thoroughly.
At the bare minimum, you should repeat this process several times throughout the summer. For best results, continue this treatment once a month, all year long.
Home-made Hairspray
Homemade hairspray is better for your hair, better for your wallet, and better for the environment!
Chop one lemon and add to two cups water in a double boiler. Simmer on low until the liquid has reduced to about half. Strain the concoction through cheesecloth, capturing the liquid in a spray bottle. This recipe makes about 1 to 1 ½ cups of hair spray. Make a new batch every few days and store in the fridge between uses.
Because this hairspray doesn't use alcohol or other chemicals, it is great for children's hair. If your hair is especially dry, replace the lemon with an orange.
Lavender and Rosemary Hair Oil
Replenish natural oils and smell good too!
Mix 1 ounce oil of rosemary with 1/8 ounce oil of lavender. Store your mixture in a light-proof, amber bottle. If you don't have access to such a bottle, simply place your mixture in a regular container and store it in the dark.
Applying the oil to your hair brush is the best way to distribute it evenly throughout your hair. To do this, place a few drops in your palm and rub your palm (and the drops) along the bristles of your hair brush. As you brush, the oil will coat your strands. This recipe (using this application method) will yield a six month supply.
Rosemary Honey Hair Conditioner
The extremes of heat and cold can wreak havoc on our hair. To give your locks a little TLC, try this homemade conditioner. The honey will add shine, the olive oil will add moisture, and the rosemary will stimulate hair growth.
Thoroughly mix the following ingredients in a bowl: ½ cup honey, ¼ cup olive oil (warmed), 4 drops of essential oil of rosemary, 1 teaspoon xanthum gum (available for purchase at health food stores). Once you've combined the ingredients, place the mixture in a plastic bottle with a well fitting lid.
After moistening your hair, massage a small amount of the conditioner into your scalp and thoroughly coat the hair. Wrap hair with a towel or cover with a shower cap and allow the conditioner to nourish hair for thirty minutes. Then, shampoo and rinse with cool water.
Chamomile Shampoo
This great homemade shampoo will help your hair retain moisture.
Bring 1 ½ cups water to a boil. Remove from heat and add 4 bags of chamomile tea. After steeping for 10 minutes, remove the tea bags. Add 4 tablespoons of pure soap flakes to the liquid. Let the concoction stand until the soap softens and then add 1 ½ tablespoons glycerin. Poor into an amber, light-proof jar or store in a dark place.
Well? Did you do it? Did you try one of these recipes? Are you happy with the results? Did you save a significant amount of money? Let us know what you think!
(Guest blogger Ann Ruble recently spent a good chunk of change on a treatment for hair loss. As a result, she started looking for ways to save money on her hair care to offset the cost of the hair restoration products. She was overjoyed with the results. A full believer in the DIY process, she will never buy hair care products again! Now she blogs for http://hairklinik.com.)