Guys: How to Stay in Shape When You Travel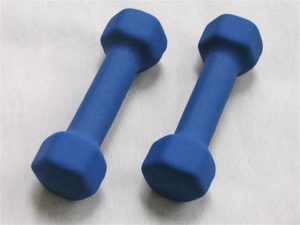 It's not always easy to stay in shape on the road. If you want to exercise while you travel, you can still do it. These exercise trips will show you how to avoid packing on the pounds and stay in shape away from home.
First, Avoid Packing on the Pounds
When you're trying to stay in shape, the first thing you have to do is avoid packing on the pounds in the first place. This is sometimes easier said than done when you're running from the airport to the hotel to the next business meeting. How can you possibly resist the temptation of chomping down the easy fast-food burgers and airport cinnamon buns?
Pack Food With You
Easy, pack food with you. Plenty of guys do it all the time. If you're diabetic or have gluten intolerance, it's hard to find food that actually falls in line with your special diet. When you're trying not to gain weight, it's pretty much the same concept. You'll want to pack plenty of protein bars, nuts, dried fruit, pretzels, beef jerky, tuna snack packs, peanut butter and cracker snack packs.
Drink More Water
When you're on a plane for hours, the dry cabin air can make you feel sleepy and hungrier than you actually are. Be sure to drink plenty of water to stave off the cravings and keep yourself hydrated.
Avoid Over-Indulgence
If you want to stay in shape and avoid developing love handles on the road, it helps to avoid over-indulgence. You'll probably be going to parties and meetings a lot and be offered a wide variety of cocktails and calorific, creamy meals. There's nothing wrong with veering a little from your diet plan, but resist the temptation to eat until you burst.
Cut Off the Cocktails
Drinking is another temptation you'll have to curb if you want to stay in shape on the road. That doesn't mean you can't have a couple of beers in the hotel lobby with your business contacts, but it's good to know when to call it a night.
Next, Stay in Shape with the Right Exercise Tips
When you're on the road, you can't carry a gym around in your back pocket. But you can still exercise while you're on the road, you just have to be inventive.
Pack Some Light Equipment
Resistance bands and 5-pound dumbbells are your best allies on the road. Pack them with you and you can use them anywhere!
Use Your Room to Work Out
Sometimes, you just can't find a good enough gym at or near the hotel where you're staying. That doesn't mean you can't get in a good workout. You can work your biceps, quads, and glutes just as easily by using the items in your hotel room. Grab a sturdy chair and use it to do chair pushups. Lie across the bed and dangle your upper half over it. Use your back muscles to pull yourself up and down for a dozen or so repetitions. These back-strengthening exercises work your shoulders, back, and core.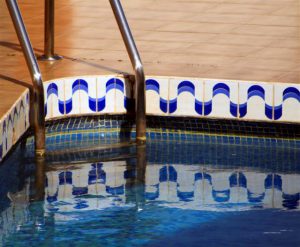 Take a Swim
Sometimes, the hotel gym is less-than-ideal for your workout needs. You can still get in a good cardio workout by heading to the pool. Even if it's not large enough to do laps, you can still tread water and work your entire body.
Find Another Gym
If the hotel gym is nothing but a broom closet with an outdated Nordic Track and a squeaky treadmill, break out the laptop and find a nearby gym. Most gyms will let you try out their facilities for free for a couple of nights if you tell them you're thinking of joining.
Also, Get Plenty of Sleep
You're jet-lagged and working odd hours so it's sometimes hard to get all the rest you need. Still, it's important to get at least 7 hours each night to avoid a drop in your leptin levels, a key component in helping your brain realize it's full.
Can you really stay in shape while you travel? Sure. You just have to remember to exercise more than just your body, you need to exercise control. That means remembering your fitness goals even when you're talking business and jetting from place to place. Temptation is out there. Just keep your focus and you won't lose site of your goals.