Five Benefits of an Elliptical Trainer
Elliptical trainers have been steadily growing in popularity, and in fact, typically when you go to a fitness center or health club you will find as many ellipticals as treadmills.  That was not the case several years ago.  There are several reasons why elliptical trainers have gained significant market share in the fitness equipment industry:
Upper and Lower Body Workout –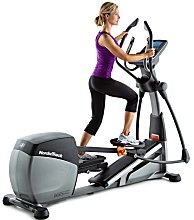 An elliptical trainer is one of the few exercise machines that exercises both your lower and upper body.  The obvious benefit is that you target more muscle groups in comparison to exercising on a treadmill or stationary bike.
In addition, an elliptical provides a weight bearing workout, which is more beneficial for muscle development.
However, it is important that you consciously apply pressure to the upper body handlebars to get the optimum benefit.  Many users tend to just go through the motions when using the upper body feature.
Low Impact Workout –
Since your feet never leave the pedals you reduce the impact to your knees, ankles, hips and back.  You lower body moves in an elliptical motion, there is no reverse action.  It is sort of like running in the air.  This is a very natural motion that avoids any serious impact.
In comparison, when running on a treadmill you can impact the surface at a rate of 2.5 times your body weight.  Even when you walk on a treadmill there is still some degree of impact and shock to your body.
An elliptical trainer is ideal for individuals with stress or strain injuries, and is becoming particularly popular with seniors and the baby boomer generation.  In fact, the original elliptical trainer was designed to accommodate a person with stress injuries.
Reverse Motion –
An elliptical trainer allows you to reverse the motion.  By going in a reverse motion you can better target your calf and hamstring muscles.
You will also find that on most ellipticals you can also incline the motion and simulate hiking up hills and mountains.  This further lets you target additional lower body muscles while you also workout you upper body.
Reduced Rate of Perceived Exertion –
Although there is some controversy to this claim, a study by A. L Batte investigating the physiologic response to exercising on an elliptical machine, concluded that a level of perceived exertion was lower relative to the energy expended when running or biking.
In other words, you were able to exercise more strenuously with a lower perception of exertion.  (See abstract at http://www.ncbi.nlm.nih.gov/pubmed/14625510)
Low Maintenance –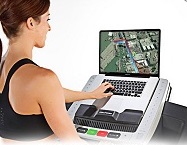 In comparison to a treadmill, elliptical trainers require less maintenance and are less likely to have service issues. There are a couple of reasons…
Elliptical trainers have less moving parts, no motors and simpler electronics in comparison to a treadmill.
Being a low impact machine, elliptical trainers do not have to withstand the abusive impact that comes with running or even walking.
As you can see there a number of benefits to an elliptical trainer.  And in my personal experience, an elliptical trainer allowed me to continue to get a serious cardio workout while gradually recovering from a muscle strain in my knee brought on by running.
When buying an elliptical trainer it is important to get one that is right for your body and your budget.  There are countless models that cost anywhere from a couple of hundred dollars to in excess of $5,000.
I personally do not recommend any models less than $500.  They tend to be lightweight, unstable, have restrictive elliptical strides, and the quality of the elliptical motion can be compromised.
When purchasing an elliptical trainer you need to factor in your weight, height, your level of physical activity and the number of users.  You want a machine that is durable enough to handle your workouts, and is suited to your body type.
Before you buy an elliptical trainer, it is a good idea to search for reviews online. You will find reviews on over 100 elliptical trainers on the internet.  Each review discusses the pros and cons, and profiles the machine for a perspective buyer.  In addition, there is a helpful buyer's guide to instruct you in being an informed consumer.