Coconut Oil Benefits for Hair Care and Skin
In recent years, the anti-saturated fat/coconut oil propaganda has lost almost completely because of only one reason. This is the fact that coconut oil does treating miracles to hair of any type. Coconut oil is one of the best chemical-free deep conditioners that nature has given us.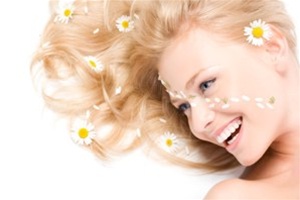 Research shows that coconut oil has a very good treating effect when used as a pre-wash remedy for damaged and dry hair. It works as a sealant for dry hair and split ends.
Applying coconut oil on hair will help cope with hair porosity and prevent protein loss. These benefits of coconut oil are especially valuable for those who constantly heat straightens, colors and styles hair. Using coconut oil in hair care allows to switch from chemicals that put hair under stress. Research in "natural hair" movement has several announcement of the wonderful natural power of coconut oil.
Both ways of using coconut oil – external application and internal consumption are beneficial for improving hair and  skin health.
Comparative Study on Coconut, Sunflower and Mineral Oils
Coconut oil was compared with sunflower oil and mineral oil, which are known for their good impact on hair. Various techniques of research were used, a row of experiments were conducted to cover the question of possible natural products for conditioning and nourishing hair.
The results clearly showed that only coconut oil decreased protein loss for both comparatively healthy and damaged hair. The oil suited any hair type and besides, it showed wonderful effect on improving dry scalp condition.
The cause of coconut oil's ability to maintain the level of protein is the oil chemical composition. Coconut oil contains a high amount of lauric acid, which is present in human breast milk. This fatty acid and hair proteins resemble each other in their structure. Lauric acid can easily penetrate deep inside hair shaft and fill up damaged areas. Neither mineral oil, nor sunflower oil has such beneficial properties of their chemical composition and structure. They can not penetrate hair fiber and influence protein loss.
Therefore, coconut oil is especially good for porous type of hair. Chemically treated hair become porous over time as well.
Coconut oil hair treatment helps achieve the following results:
Moisturized and nourished hair
Repaired and protected hair shaft
Revitalized follicles
Boost of volume and shine
Smooth surface
Strength from roots to ends
Elimination and prevention of dandruff.
Coconut Oil Skin Benefits
Coconut oil is the key  to even, glowing, and smooth skin. Coconut oil skin care has become very popular as the healing and nourishing properties of coconut oil is powerful.
Coconut oil skin benefits have both medicinal and cosmetic character. Here is a list of positive effects of coconut oil on skin:
Moisturizing
Deep cleansing & make-up removing
Anti-aging activity
Anti-bacterial, anti-viral, anti-fungal activity
Eliminating the symptoms of eczema and psoriasis
Suitable for massage
Vitamin E and fatty acids work together to keep moisture inside skin cells. Skin stays soft for a long time without the need to reapply the oil. The special feature of coconut oil on skin is that skin absorbs it gradually unlike commercial creams with high water content. The latter leave skin dried out in the end. Due to its molecular formula, coconut oil can penetrate deep into the pores providing a perfect supply of nutrients.
Coconut oil contains large quantities of lauric acid, which is famous for its anti-microbial and healing properties. With such a powerful fatty acid coconut oil is a good skin cleanser and make-up remover. It can lift dirt and bacteria even from deep within skin. The oil also helps get rid of spots and blackheads.
Medium chain fatty acids combined with antioxidants accelerate cellular repair so that skin stays young and healthy for longer time. Regular using coconut oil for skin slows down the development of the signs of aging.
The benefits of coconut oil on skin include medicinal aid for those who suffer from dermatitis, eczema and psoriasis. Powerful anti-bacterial and moisturizing activity significantly facilitate the symptoms of named diseases.
To achieve all the possible benefits of coconut oil it is important to know how to choose the right product. The best type for skin is virgin coconut oil, preferable with mark "Organic". This oil is derived from fresh coconut meat and milk, which are mechanically squeezed without exposure to heat. No perfumes, chemicals and preservatives are added afterwards.
Remember, that hydrogenated, processed coconut oil is useless for skin care. Heat used during the manufacturing of the oil destroyed all valuable nutrients, so that the product turned out to be pure saturated fats.
One more thing you should check before purchasing is the amount of lauric acid – it should be not less than 40%.
Oils in a glass containers are better as plastic containers leach parabens into the product.
("Finding your vocation is easier than you think – find a problem in the world that you really care about and try to solve it". Nastassia Green – Founder and Editor over at Oilypedia.com, a healthy lifestyle coach, very passionate about promoting natural living and healthy diet ideas. Nastassia is a strong believer in inner harmony as a the key to health and happiness.)