Beetroot Salad Recipe with Health Benefits
by Thibah Irving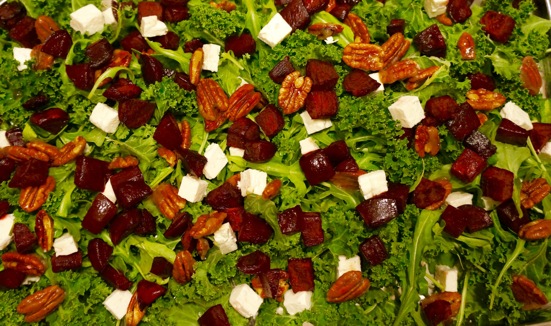 For a good few years now, my father's morning 'green juice' has actually been a deep reddish/purple colour, which has been cause for much confusion with my girls, who take great pride in the learning of their colours. He has been growing his own beets and in true 'Grandad' style, anything he grows gets thrown into the blender for that much needed morning nutrient boost.
Before jumping on the 'green juice' band wagon, the closest I ever came to beetroot was in my grandmother's pickle jars during Sunday lunch, and I was never a fan. Surely though, beetroot must have some benefits? I mean, would you really go to all that trouble of getting your hands (and clothes) stained deep red if it didn't?… I have grown to love and use beets in a number of my meals, and in this technologically advanced age, I am hearing a lot about its nutritional benefits. So after a bit more research, I have discovered that despite its basic and ugly appearance, the beauty is really on the inside for this earthy root vegetable.
So, the official family name of beetroot is 'goosefoot'… not sure about you, but I'm glad they came up with a more palatable name for us to use instead. Beets come in a variety of colours, mainly white, gold, red and candy cane, though you will most likely be familiar with the red, as this is the most popular and readily available variety in most parts of the world.
Beetroot is in season during the warmer summer months, but you will likely find them in stores all year round. As with any produce, I would recommend you try to buy them while they are in season, as they often taste better, have more nutrient content and are usually cheaper.
Interestingly enough, it was not always the root that was eaten, but rather the beet greens were the preferred culinary part of the vegetable. This leafy part of the beetroot is edible and packed full of nutrients. They are great to sauté or throw into any stir fry.
I would recommend buying the beetroot with the stalks and greens attached if you can. Not only will they serve beautifully as an addition to your mid-week stir fry meal, but buying them attached to the root ensures that the beet you are buying is fresh and healthy.
Be sure to remove the stalks when you get home though, as you don't want the leaves to drain the bulb of ALL it's nutrients while it sits in the fridge. If you can't find them with the greens, just make sure they still have their root tail attached at the bottom to ensure they are still healthy.
Health Benefits of Beetroot
In terms of nutrient value, beets are truly amazing. They are high in Vitamin C (immunity), Potassium (healthy nerve and muscle function) and Manganese (good for your bones, liver, kidneys and pancreas.)
Beetroot has a highly detoxifying nature, which makes it a great addition to your tonics or morning vegetable juice, in particular for your overall digestive system and liver function.
Beetroot is considered a 'wonderfood', and contains natural chemicals and powerful antioxidants that protect against heart disease and even cancer, as these natural antioxidants work hard in the liver to boost the body's immune system and purify the blood.
Beetroot is  also particularly high in folic acid, the B vitamin needed, amongst other things for the facilitation of good growth and development, making beetroot a great natural ingredient to supplement a pregnancy vitamin regime.
The sweet taste of fresh beetroot reflects its relatively high natural sugar content. But don't be alarmed, this simply means that beetroot is naturally a high source of energy, and that its sweet, earthy flavour might just be preferred over the greens you serve your little ones. I personally would still consider that a win.
Now that you are ready to head out and buy some beets, here are some handy tips to ensure you have a beautiful beet experience:
Handy Beetroot Tips
– Don't buy any bulbs bigger than a baseball, because the larger ones tend to lose their flavour.
– Bulbs last up to 3 weeks in the fridge (just don't forget about them).
– Beets can be eaten raw or cooked. They like to be baked, boiled or steamed, but if you prefer them raw, they grate nicely into any salad.
– Unless you have an awesome peeler, it is often easier to remove the skins after steaming.
– And I have to make mention of this once again, they stain…so be sure to wear your apron.
Here is one of my family's favourite go-to beetroot salad recipes, which is just too good not to share.
BEETROOT & CANDIED PECAN SALAD
Beetroot
Ingredient: 2 medium sized red beets
Preparation:
Peel and dice beetroot into half inch cubes. Place on baking/parchment paper and drizzle with a little olive oil and salt. Bake the beets in the oven for 30 mins at 365F (180C) or until soft in the middle and crispy on the outside.
Let them cool before adding to the salad.
Candied Pecans
Ingredients:
1 cup raw pecans
2 Tbsp maple syrup
1 Tbsp coconut oil
A pinch of salt
Preparation:
Dry toast the pecans on medium heat in a small saucepan for 2-3 minutes. Remove the pecans from the pan and set aside. Using the hot pan, but not on the heat, add the coconut oil just to melt it.
Once the oil is melted, add the maple syrup and whisk together to form a paste, add salt. Drizzle the paste over the pecans and toss to coat. Place the candied pecans onto parchment paper to cool.
Vinaigrette
Ingredients:
1/4 cup olive oil
1/4 cup cider vinegar
1 Tbsp dijon mustard
1 tsp maple syrup
1 tsp lemon juice
Ground black pepper
Preparation:
Whisk ingredients together. Now it's time to put your salad together.
Salad
Ingredients
2 cups washed arugula (or rocket)
3 cups kale (I wash thoroughly and spin dry)
100g feta cheese
Preparation:
Throw the kale and arugula in a bowl and toss lightly. Add the candied pecans, roasted beets and crumbled or diced feta over the top. Serve with your desired amount of vinaigrette (in my house, that means all of it).
This is such a good salad, goes down a treat every time. Enjoy!
Do you have any healthy and delicious beet recipes of your own??  I would love to hear them!
(Thibah is a Vancouver based stay-at-home mother to two spirited young girls.  She has a passion for all things 'family', 'motherhood', 'healthy eating and nutrition' and 'living a purposeful life'. Before receiving the gift that is Motherhood, she was lucky enough to experience careers in Event Management, English Language Teaching and Journalism in the UK, Australia and New Zealand. You can follow her on twitter @TheTilbaTree.)