7 Ideas for Reducing the Cost of Acupuncture Treatments
Alternative medicine is often seen as pricey and not all insurance companies cover treatments, such as acupuncture. In reality, a round of acupuncture sessions is typically much less expensive than the cumulative costs of visits to a specialist and prescription co-pays.
Depending on your health insurance coverage, acupuncture can save you money if it prevents the need to undergo surgery or other procedures.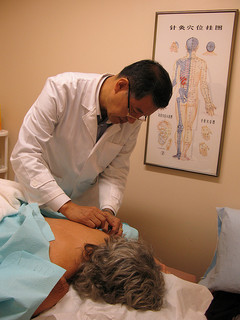 While you may balk at the idea of handing over $50 to a licensed practitioner for a session, consider what the World Health Organization has determined. The group states that there are 28 "diseases, symptoms, or conditions for which acupuncture has been proved – through controlled trials – to be an effective treatment."
Depression, headaches, hay fever, morning sickness, arthritis, hypertension, back pain, neck pain, and even postoperative pain made the list. Plus, the organization found that there are more than 60 other conditions, "for which the therapeutic effect of acupuncture has been shown, but for which further proof is needed."
The list will continue to swell as research is conducted.
Traditional Chinese medicine relies on its own set of diagnostic criteria. Acupuncture doesn't merely treat the symptoms, which is common in Western medicine, but instead treats the root cause of the problem. This is why proponents of the ancient tradition say that acupuncture can prevent issues from occurring at all and can maintain your health. This preventative care could lessen your need for doctor's visits and save you money in the long-term.
While this is exciting, you may be thinking, "Saving money in the future would be great, but what about my wallet today?" You're in luck. You can still receive quality acupuncture care at a discount. Just be sure that the practitioner you visit is licensed (L.Ac.) and not merely certified.
A licensed acupuncturist has completed at least 2,000 hours of acupuncture and Traditional Chinese medicine education, as well as hundreds of hours of supervised clinical experience. Treatment with an unqualified acupuncturist can be dangerous and ineffective. Get the most bang for your buck, health, and safety by visiting a licensed professional. Now on to the money saving ideas:
1. Call Your Insurance Provider:
Ask whether or not your policy covers acupuncture treatments and get the details. How many sessions are covered in a year? What conditions are covered? Do I need a referral from my primary care doctor?
Also inquire as to whether your insurance company has an affinity program. Some insurers give members access to a Service Benefit Plan where they can receive a discount on alternative medicine treatments, including acupuncture.
2. Medicare Part C:
Contact a representative and ask if your Medicare Part C will covers some acupuncture. This isn't always the case, but there are some instances when Medicare Part C may pay.
If you are able to get some of the cost of treatment covered, you will have to visit your primary care doctor who will refer you to a licensed acupuncturist that participates in the Medicare program.
Your licensed physician or authorized medical care provider has to deem acupuncture "medically necessary." Medicare Part C must agree with this decision.
3. Don't By Shy. Ask About Discounts:
Some acupuncture centers will offer a discount if you refer new patients to their practice. Others even give discounts for testimonials.
Follow the acupuncture center on Facebook or sign-up for their newsletter to keep apprised of discounts and specials. Other establishments offer special pricing to senior citizens and students. It never hurts to ask.
4. Flexible Spending:
Denied by insurance? Check out your employer's flexible spending policy. Many include acupuncture as an approved expense.
Paying for treatments with flexible spending dollars has the potential to reduce your costs by about 20%, though this depends on your income bracket.
5. Community Acupuncture:
Community acupuncture clinics feature practitioners who perform acupuncture in a group setting. The cost is typically based on a sliding scale, where you determine how much you can pay. You can receive treatment for as little as $15 in some settings.
One of the clinic's acupuncturists will assess you and then treat you while you are fully clothed in an open room. Other establishments offer semi-private treatment areas. Again, make sure that the acupuncturist is licensed in your state.
6. Workplace:
More and more mid- to large-sized employers are establishing workplace clinics to promote wellness. Employees sometimes have access to primary care physicians, a pharmacy, physical therapy, acupuncture, specialist referrals, a fitness center, and more.
While this setting isn't available to most, if you happen to have the opportunity, get acupuncture at work for little to no cost.
7. Ask About the Proposed Length of Treatment Up Front:
After your acupuncturist has evaluated you, collected your health history, and formulated a plan of attack, they can generally estimate the number of sessions you will likely need. Ask them after your first session.
You can save money by purchasing a package of sessions, as opposed to paying for each one individually.
Take control of your health and find a treatment that works for you. Acupuncture is an excellent way to remedy a variety of ills without side effects or discomfort. If you can take some steps to find an affordable, licensed practitioner, you won't only save money now, but you'll experience the health benefits that can protect you in the future.
Do you have any other suggestions for saving on acupuncture treatments?
(Elie Goldschmidt is a practicing licensed acupuncturist who completed his training in acupuncture and traditional Chinese Medicine at Pacific College of Oriental Medicine in San Diego, CA. He is the founder of the TCM Directory (http://www.tcmdirectory.com/), a resource for the public to find qualified, licensed acupuncturists and avoid treatment at the hands of an undertrained, unqualified practitioners.)