8 Tips to Shed Pounds and Save Money
by Meghan Nichols, R.D.
You can achieve your health and weight management goals this year without breaking the bank spending money on high priced health foods. All it takes is a little careful planning.
In fact, one study found following a diet of heart healthy whole foods can actually reduce your grocery bill by up to $8 a week. That's $416 saved each year for a single person (or $1600 for a family of 4). So how can you eat healthy, lose weight and save money?
PLAN YOUR MEALS:
It's a good idea to plan meals at least on a weekly basis, starting with the foods you already have on hand in your pantry, fridge or freezer. There is no shortage of online resources to help you find recipes that use ingredients you already have.
Also, seek out menu options like casseroles, stews and stir-frys to help stretch expensive food items like meats and seafood. And don't be afraid to try a few meatless meals that use lower cost proteins like beans, tofu or peas.
GET THE BEST PRICE: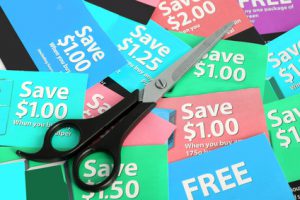 Once you have your meals planned, make a grocery list and use it to find savings in weekly circulars or online coupon sites.
You can learn about understanding coupon vocabulary in this article.
Also, be sure to sign-up for your local supermarket loyalty cards for access to even more savings.
NEVER SHOP ON AN EMPTY STOMACH:
You've probably heard that you should never shop when you're hungry. Well, it's true! Shopping when you're hungry can lead to lots of extra impulse buys – and your impulse buys aren't likely to be the healthiest ones.
When your stomach is growling, you may be more tempted to put items like potato chips and cookies into your cart. That means more money spent at the grocery store and you won't be doing your waistline any favors either.
If you find yourself heading to the market on an empty stomach, fuel up with a quick, healthy snack. You will be glad you did and you'll be more likely to stick to your shopping list and stay within your budget.
SEEK OUT STORE BRANDS: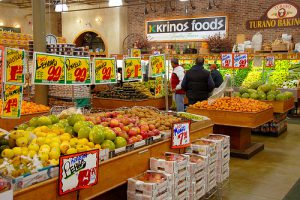 When shopping, don't be afraid to seek out store brands where available.
In some cases, buying generic could save you as much as 50% off brand name goods.
And often times store brands are manufactured by the same companies that make comparable brand-name products.
The only difference may be the packaging and the price. Just be sure to check the ingredients to see that it matches up to the brand name product.
BUY FOODS THAT ARE IN SEASON:
Another way to save is by consulting a seasonal food guide (they are just a Google search away) to help you choose produce that are in season, especially those that are locally grown and did not have to travel a long distance.
They will be cheaper, fresher and often more nutritious than foods that are not in season.
For added convenience, look for frozen vegetables which are flash frozen at the peak of ripeness locking in nutrients.
CONSIDER BUYING IN BULK:
If you have the freezer (or fridge) space, consider buying some of your groceries in bulk. Items like chicken breasts, fish and steak can be frozen for long periods of time.
According to the USDA, frozen foods can be stored indefinitely, but the flavor can change when food is stored past certain time limits.
Raw beef roast and steaks are good in the freezer for 6 to 12 months, while raw chicken is good for 9 months. Raw, fatty fish like salmon and tuna can be frozen for 2 to 3 months; and raw, lean fish like cod and flounder are good in the freezer for up to 6 months.
For more detailed information on frozen food quality and safety, click here for USDA recommendations.
STEER CLEAR OF PREPARED FOODS:
Prepared or "ready-to-eat" foods for sale in the supermarket can be very tempting – from a fresh made macaroni salad or potato salad, to soups, sub sandwiches and much more – but these prepared foods usually come at a much higher cost than if you were to shop for the ingredients yourself and prepare the dish at home.
And rarely will you find supermarket prepared foods that boast nutrition labels, so it's up to you to guess how many calories you are actually consuming.
PREPARING MEALS:
Cook when you have time, preparing multiple recipes or batches, and store in the fridge or freezer. You can quickly heat and eat these meals throughout the week, helping you to avoid the hefty portions and price tags that come with opting for take-out.
You can also get creative with leftovers – use leftover meats in stir-fries, fajitas, salads, soups, wraps or casseroles.
(Meghan Nichols, R.D., is a registered dietician and part of the Research and Development team at Nutrisystem. Ms. Nichols draws from evidence-based best practices, as well as her practical know-how, to deliver positive nutrition communications that dieters can use to ensure weight loss success. She a frequent industry speaker, helping health care professionals implement solutions for their patients' nutrition and weight concerns.)