10 Everyday Superfoods Healthy For You and Your Wallet
You must have heard a lot about foods rich in vitamins and minerals. Sometimes this food could be some sort of exotic algae or some fruit or vegetable that is not always available easily or it may be just a little heavy on your pocket.
Now we sure do not want to go hunting for some food or spend a fortune just to seek nutrition.
Food is all around us but what is important is to selectively pick them according to their value.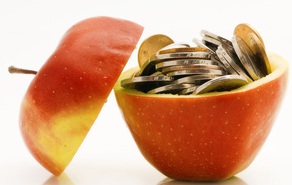 Now if you crave for sweets then try biting into an apple rather than eating high-calorie pastries. If your food is closer to its natural state it will be much better for your health.
Include a lot of fruits, berries, greens and vegetables in your diet. You can try steaming veggies instead of frying to obtain its complete vitamins.
And stay away from those sauces. You can try some of these fruits and veggies and can surely be guaranteed of wholesome nutrition.
Here are some healthy foods for healthy living that are easy on your wallet but great for your health:
1. Apple:
Now this is a food that we all know and thank god they are easy to find and not so much expensive. Apples are low in calories and are a good source of fiber.
The pectin in apples help reduce "bad" cholesterol by binding with cholesterol and fats before the body absorbs them. It also contains some vitamin C which is good for your heart.
The antioxidant compounds in apple (such as quercetin, epicatechin, and procyanidin B2) help reduce the risk of cancer. Apples can be eaten like a snack in its natural form, which is highly recommended, or they could be tossed in a green salad or a main dish salad or fruit salad.
2. Bananas:
Now you know why monkeys just can't keep their hands off these. Bananas, one of the greatest tropical fruits, is calorie dense and is an instant energizer.
It is rich in potassium and fiber. They taste great just the way they are or if you fancy a fruit salad then try adding a few slices. You can also add a few pieces for a heavenly yogurt parfaits or even smoothies.
3. Baby Carrots:
If your body longs for some vitamin A then you need to get your hands onto some carrots.
Carrots are a super source of beta carotene which gets converted into vitamin A. You can just eat them as carrot sticks or toss them in veggie platters or even as the side dishes.
You can also cook them up in a stew and casseroles.
4. Beans:
Beans are rich in protein, fiber and minerals such as iron, folate and manganese. They also help in reducing cholesterol levels in the body.
Try buying beans in their dried form which is inexpensive, and include them in green salads, dry vegetables, casseroles, stews and chili. Types of beans range from kidney beans and black beans to white beans and garbanzo beans.
5. Eggs:
Eggs are cheap, easily available and rich in protein. They are also a good source of the antioxidants lutein and zeaxanthin, which are known to ward off age-related eye problems.
Eggs can be included in breakfast as boiled, poached and fried forms. You can also cook up some spicy egg curry or even a simple egg sandwich.
6. Lentil (dry):
They are very common in India and are high in protein, magnesium and potassium. It is one of the most easily accessible pulses. It can be included in the diet in the form of soups and stews, cold bean salads, and casseroles.
7. Yogurt:
The healthy bacteria in yogurt are very much good for your digestive system.
It has good amounts of calcium and protein, and is generally taken as smoothies, yogurt parfait, dips and dressings.
8. Kale:
Kale is a dark, leafy green and is loaded with vitamin C, carotenoids, and calcium.
It is cheap and consumed in a vegetable curry form.
9. Pearl Barley (dry):
This niacin (vitamin B3) rich food provides numerous protective actions against cardiovascular risk factors. It also helps to reduce total cholesterol and lipoprotein (a) levels (a type of cholesterol which is associated with an increased risk for heart diseases).
Barley is one of the richest sources of both soluble and insoluble fiber. It is used in soups and stews, cold salads, and casseroles.
10. Oranges:
It is a very common fruit and it is well-liked because of its easy availability all year round, dense nutrition, and it also tastes good.
Oranges are an excellent source of vitamin C and flavonoids. They also contain vitamin A, vitamin B, amino acids, beta-carotene, pectin, potassium, folic acid, calcium, iodine, phosphorus, sodium, zinc, manganese, chlorine and iron.
They taste great just the way they are or you can even include them in a salad.
Food rich in vitamins and minerals are easily available. We just need to know when to buy what, so that it doesn't crunch our wallet. Always buy fruits during their season because they will not only sell cheap but also taste great.